Is Profitable to Buy Concrete Mixer and Pumping Machine
Posted On: 23/09/2022 | Posted by: Haomei Concrete Pumps
With the steady and rapid development of the rural economy, the construction machinery industry is also constantly exploring new markets in the countryside. Some manufacturers have also begun to develop various types of small machinery and equipment specifically for rural construction, such as small concrete mixer and pumping machine.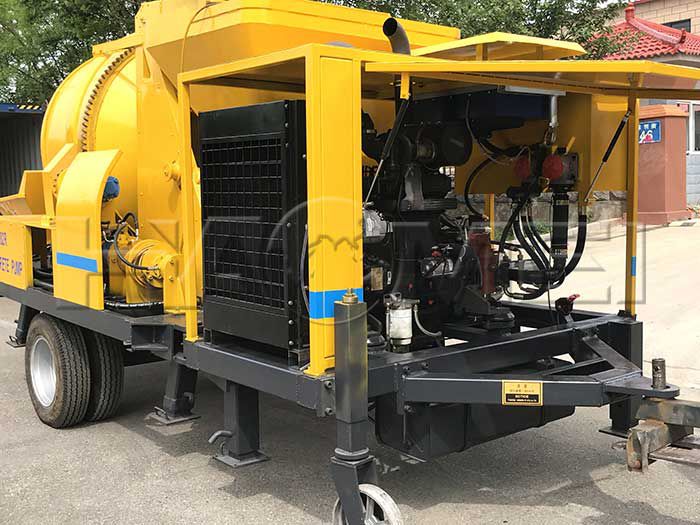 1. Easy to use
The small concrete mixer and pump can be mounted on the chassis of the car and transported directly to the construction site, which is convenient for transfer. As long as you prepare a few more tubes, you can take care of several construction sites.
2. High utilization rate
It has the three functions of mixing, pumping and transportation, and the utilization rate of the equipment is very high, saving the cost of purchasing other equipment.
3. High profit
The return on investment is fast. Its capacity is at least 120 cubic meters per day. As long as the construction projects are sufficient, the cost can be paid back in half a year.
4. Low risk
The concrete mixer and pump can be widely used in urban infrastructure, roads or construction sites, workshops, warehouses, docks, and other occasions where the site is narrow and the operation content is frequently changed.
The development potential of rural areas is huge, and for a long time in the future, with the saturation of cities, there will be counter-urbanization development, so rural areas have a very large space for development, and now there are very few equipment specifically for rural concrete construction.
This makes the concrete mixer pump have great market potential. The popular capacity is 40 m3/h. Welcome to leave message below to inquire concrete mixer pump machine price.
Original source: https://www.concrete-pump-cn.com/a/is-profitable-to-buy-concrete-mixer-and-pumping-machine.html
Tags: concrete mixer and pump,
Previous: What Will Cause Damage of Hydraulic Concrete Pump
Next: What Is Concrete Mixer Truck With Pump