What Is Concrete Mixer Truck With Pump
Posted On: 29/09/2022 | Posted by: Haomei Concrete Pumps
The concrete mixer truck with pump is to integrate the mixing system and pumping system in one. Its maximum theoretical pumping displacement of 90M3/H and the minimum pumping displacement is 40 m3/h.
There is a dedicated PLC intelligent control system, and the system runs reliably. Equipped with wireless remote control, the traditional central control console is canceled, and the equipment operation is easier.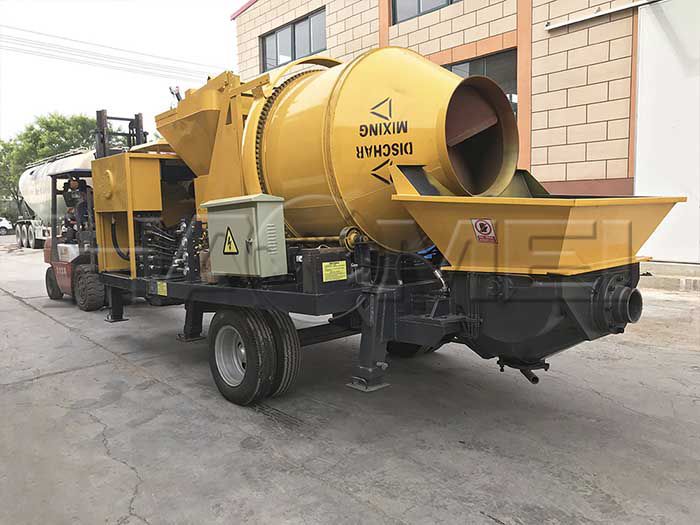 It is of full hydraulic reversing open circuit hydraulic system, featuring small reversing impact. Advanced S-valve system and advanced sealing parts reduces the probability of pipe blockage. It combines long-distance and high-intensity pumping. One person is enough to operate, saving labor cost.
There are electrical and diesel concrete mixer and pump. The diesel concrete pump has a larger output torque. The speed of the motor is only 1500 rpm, the speed of the diesel version is 1800 rpm, and the oil output of the oil pump per minute increases by 20%. With same configuration, the drum speed, the hopper lifting speed, and the pumping speed of the diesel concrete mixing ump are all accelerated by 20%.
Pumped concrete is different from traditional concrete construction methods. The requirements for concrete not only meet the strength and durability specified in the design, but also meet the requirements of pipeline transportation for concrete mixtures, that is, concrete mixtures should have good pumpability.
The requirements of pumping concrete for its material and mix ratio are different from those of ordinary concrete. Therefore, not any kind of concrete mixture can be pumped. The so-called pumpability means that the concrete mixture should have the characteristics of smooth flow through the pipeline, low frictional resistance, no segregation, no clogging and good adhesion.
When you buy a concrete mixer pump, the configuration of the product cannot be ignored. It is usually necessary to observe the frame thickness, workmanship and materials of other key parts of the concrete pump. In addition, after-sale service is also very important.
Original source: https://www.concrete-pump-cn.com/a/what-is-concrete-mixer-truck-with-pump.html
Tags: concrete mixer and pump,
Previous: Is Profitable to Buy Concrete Mixer and Pumping Machine
Next: A Highlight of Truck Mounted Concrete Boom Pump