A Highlight of Truck Mounted Concrete Boom Pump
Posted On: 11/10/2022 | Posted by: Haomei Concrete Pumps
The truck mounted concrete boom pump is a machine that continuously transports concrete along the pipeline with pressure. It plays an important role in construction projects, water conservancy projects and other constructions.
There are many types of concrete boom pumps, but their basic components are the same. The concrete pump truck is mainly composed of six parts: chassis, boom system, turret, pumping system, hydraulic system and electrical system.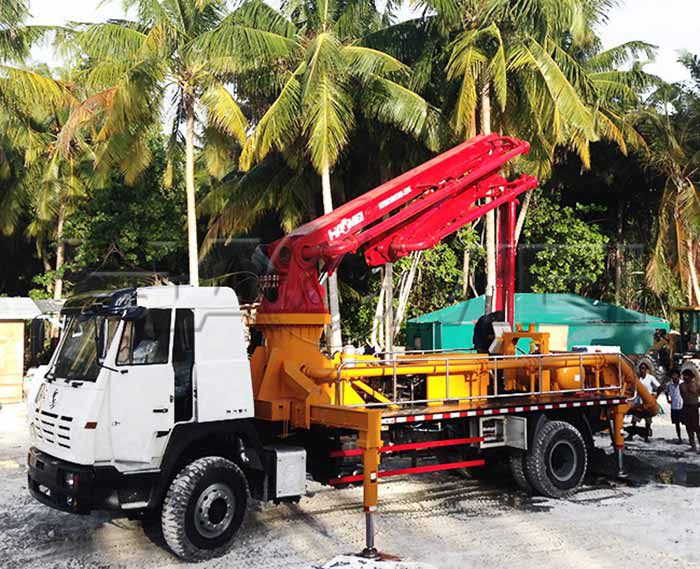 The boom of the concrete pump truck is like a human arm, which makes the working mode of the pump truck more flexible. The reason why the pump truck is so expensive is because most of the cost is on the booms. Considering the production cost, the pump truck manufacturer certainly believes that the thinner the steel plate used for the boom, the better.
However, due to the working requirements of the boom, the boom of the pump truck must have sufficient strength to support its own weight as well as the pump pipe and the concrete in the pump pipe.
The commonly used concrete pump truck has 7 specifications: 21 meters, 24 meters, 28 meters, 30 meters, 33 meters, 38 meters and 35 meters. Different pump trucks will be designed according to the requirements of chassis length, width and height, mixer efficiency requirements, boom length requirements, etc.
For example, under the condition that other configurations of the 33-meter pump truck remain unchanged, if the boom design is optimized and the overall layout is adjusted, a 35-meter mixing pump truck is launched.
In general, the longer the boom of the truck mounted boom pump, the higher the price of the concrete pump truck. The boom lengths of concrete pump trucks currently on the market range from 22 to 63 meters. Usually, the length of the boom is high, and the concrete floor that can be conveyed is also higher. Therefore, users can decide the selected boom according to their own purposes and needs.
Due to the road conditions and the dense buildings on the construction site, small truck mounted boom pump is much more favored than before. Haomei Machinery has 25-65 meters concrete pump for you to choose from. Welcome to leave message below to inquire what you need.
Original source: https://www.concrete-pump-cn.com/a/a-highlight-of-truck-mounted-concrete-boom-pump.html
Tags: concrete boom pump,
Previous: What Is Concrete Mixer Truck With Pump
Next: Which Type of Static Line Concrete Pump to Choose From