Which Type of Static Line Concrete Pump to Choose From
Posted On: 11/10/2022 | Posted by: Haomei Concrete Pumps
Static line concrete pump, truck mounted concrete pump and boom pump trucks are all concrete conveying equipment, which utilizes the pumpability of concrete to deliver concrete to designated pouring points. The line pump for sale is the cheapest among the three.
The line pump for sale is mainly used in large-scale housing construction, bridge and tunnel construction. The unique and creative open hydraulic system of Haomei concrete pump trailer features high system efficiency, good heat dissipation and stable operation. The advanced S valve system has good sealing performance, simple structure and convenient replacement of wearing parts.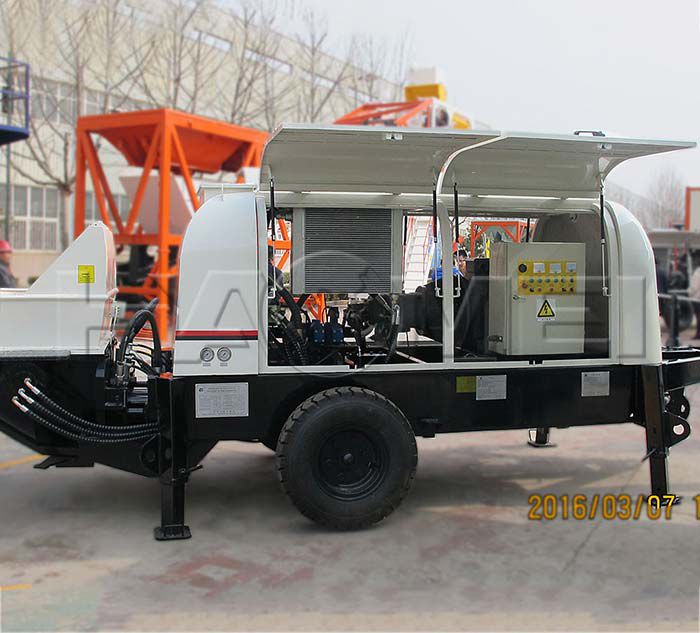 It has two types: electrical concrete pump and diesel concrete pump. The pumping capacity of the electric concrete pump mainly depends on the motor power, which is usually constant power, and there are 30 kilowatts, 45 kilowatts, 55 kilowatts and so on. The selection of the power of the concrete delivery pump mainly depends on the transformer capacity, the pumping distance and construction requirements.
At present, it is very difficult to connect to the power supply in many areas, especially for some special projects such as slope protection or field projects. That's why diesel concrete pump is needed. It fully relies on diesel engine power, and does not require electric support, which is very convenient.
There are many factors affecting the pumping distance of the trailer pump for sale. The first is the maximum pumping pressure of the equipment. The maximum pumping pressure directly determines the farthest pumping height and horizontal distance. Second, the properties of concrete can also affect how far it can be pumped.
The mechanization level of the trailer pump for sale is very high, requiring less worker and improving construction efficiency. However, the size and slump of the concrete aggregates must meet the pumping requirements. If you don't know whether if you should buy this machine, welcome to leave message to contact us directly.
Original source: https://www.concrete-pump-cn.com/a/which-type-of-static-line-concrete-pump-to-choose-from.html
Tags: line pump for sale,
Previous: A Highlight of Truck Mounted Concrete Boom Pump
Next: Types of Ready Mix Concrete Pump