Types of Ready Mix Concrete Pump
Posted On: 20/10/2022 | Posted by: Haomei Concrete Pumps
In recent years, different types of ready mix concrete pumps are born for meeting various project needs, including concrete pump trailer, truck mounted concrete pumps, boom pumps. What are their feature and their different requirements on the spare parts?
As we know, the boom pump has been vigorously promoted in various engineering constructions. However, due to the limitation of the height of the boom and the safety of the outriggers, it is limited in some narrow construction areas, and only the concrete pump trailer is available.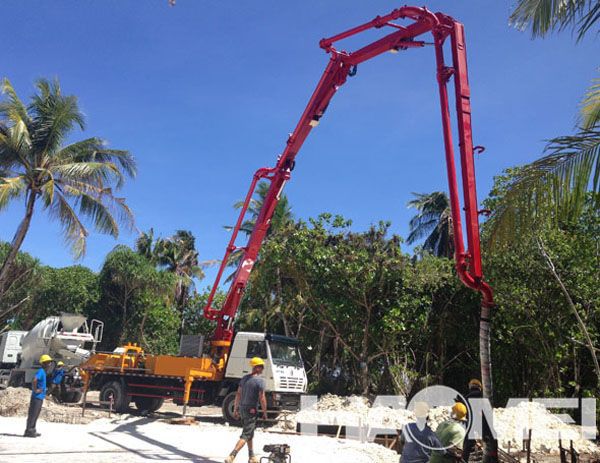 The concrete line pump is mainly used in large-scale housing construction, bridge and tunnel construction. The unique and creative open hydraulic system of Haomei line pump integrates the advantages of open and closed type, with high system efficiency, good heat dissipation and stable operation.
Concrete pump truck is a machine that continuously transports concrete along its own booms with pressure, which plays an important role in construction projects, water conservancy projects and other constructions.
The boom is the key component of the concrete pump truck. It not only has to reach a height of tens of meters, but also bear the huge pressure during pumping. The strength of the steel plate used to make the boom is higher than 600 MPa.
Concrete delivery pumps are used in all projects with concrete pouring, and pump pipes are essential spare parts. The parameters of the pump pipes are also determined according to the parameters of the concrete pump.
The pipes of the concrete pump trailer are usually used for high-rise or long-term conveying concrete pouring projects. Because the concrete line pump pumps the concrete upward from the ground, the pipelines are required to withstand pressure, and the pipes are evenly distributed, with a conventional length of 3 meters. 2m, 1m, 0.5m or even shorter is used as a regulating tube, models from DN80-DN15025.
The lengths of straight pump pipes and curved pump pipes used in the boom pump are determined according to the original parameters of the pump truck like Aimix concrete mixer pump and Haomei concrete pump truck. There are a complete set of very accurate parameters, and the length is not fixed, because the pump tube and elbow must be installed according to the length of the booms.
Original source: https://www.concrete-pump-cn.com/a/types-of-ready-mix-concrete-pump.html
Tags: types of concrete pump,
Previous: Which Type of Static Line Concrete Pump to Choose From
Next: What are Main Folding Methods of Concrete Boom Truck