What Is Small Portable Concrete Pumping Machine
Posted On: 03/11/2022 | Posted by: Haomei Concrete Pumps
The small portable concrete pumping machine has two kinds: truck mounted concrete pump and concrete boom pump truck. What are their differences and advantages? Lets have a look together.
The truck mounted concrete pump is an upgraded version of the concrete pump trailer. It adds a car chassis and a generator set. If you need to transfer between different construction sites, it is more suitable to choose a truck-mounted pump, because it can drive fast on the road.
Since it has no boom, manual piping is required when in use. In addition, on the construction site, for those medium and high-rise buildings that are difficult to reach by the boom pump, the truck mounted concrete pump can also be used to pump the concrete to the concrete pump, but the premise is that the concrete pump has enough power and the of the pipelines can reach the required height.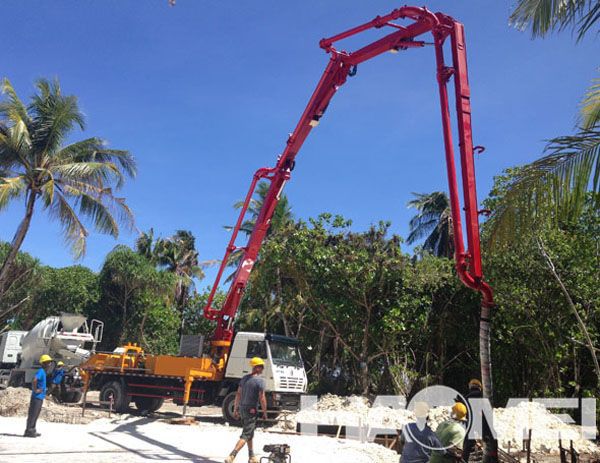 Concrete boom pump is a device that integrates the pumping system for pumping concrete and the boom system for placing on the chassis of the vehicle. The pumping system uses the power of the chassis engine to pressurize the concrete inside the pipeline which is attached to the boom. The operator controls the movement of the boom to deliver the concrete pumped by the pumping system directly to the pouring point.
The small concrete pump truck is a kind of concrete machinery equipment that is convenient to move and distribute. However, according to different working conditions, the requirements for the small concrete pump truck are different, so in the construction process, the selection of the concrete pump truck is very important.
In some narrow areas in the countryside, the overly long boom is not easy to perform due to the size of the space. Therefore, it is necessary to select the appropriate boom length of the small pumping machine for rural construction. 25-42 meter concrete boom truck is more suitable for rural projects.
It is need to make clear of the theoretical pumping volume. The theoretical pumping volume is the data obtained under the most severe conditions in the laboratory. Therefore, the actual pumping volume per unit time must be smaller than this. If you don't which model to choose, just tell our sales your needed actual pumping volume.
Original source: https://www.concrete-pump-cn.com/a/what-is-small-portable-concrete-pumping-machine.html
Tags: concrete pump trailer,
Previous: What are Main Folding Methods of Concrete Boom Truck
Next: What are Advantages of Small Concrete Pump For Sale