Trailer Mounted Concrete Pump for Sale VS Concrete Boom Pump
Posted On: 17/02/2023 | Posted by: Haomei Concrete Pumps
Concrete boom pump is to install the boom on the chassis of the car. It has its own integrated function of pumping and distribution system, so it is called a concrete pump truck. Because it has a chassis, it can move freely. The boom can pump concrete 360 degrees.
The truck mounted concrete line pump integrates the advantages of a concrete pump trailer and a concrete pump truck. It is flexible, highly maneuverable, does not require transportation, loading and unloading. Its price is much cheaper than concrete pump truck but the truck mounted concrete pump has higher pumping height and distance. The maintenance is also low.
The truck mounted concrete pump is frequently used in many small and medium-sized construction sites. Since it has no boom, it needs to be manually connected when it is used. In addition, on the construction site, for those middle and high-rise buildings that are difficult to reach with boom pumps, it is also possible to use the truck-mounted pump to take over the pipe to transport the concrete.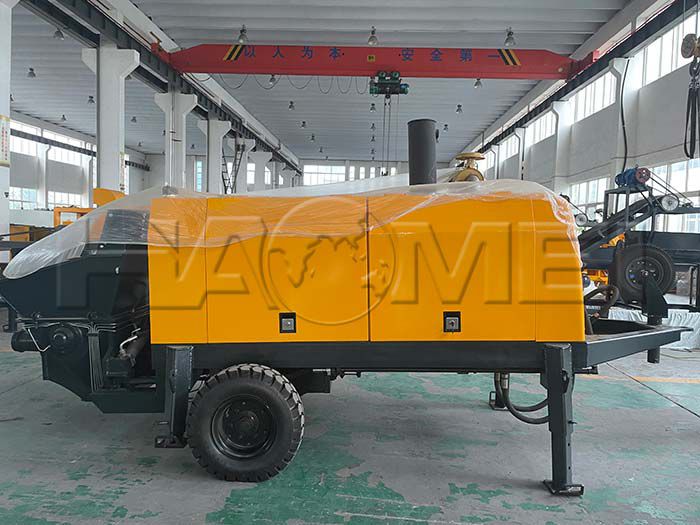 The premise is that the truck-mounted pump has enough power to drive the concrete to the above height and and at the same time the length of the pipe can reach the required height. Haomei concrete line pump can meet the requirements of high-rise building construction with a vertical height of 100 meters.
The trailer mounted concrete pump for sale and concrete pump trucks are both invented to increase the mobility of concrete delivery pumps. They are also called the three representative models of concrete delivery pumps together with concrete pump trailer. The main difference between the two is whether it has a boom.
In addition, the differences between the concrete pump trailer and the pump truck are:
1. Displacement: The displacement of the pump truck is larger than that of the vehicle-mounted pump, and the pumping pressure is also much lower. Because the length of the boom is limited, it does not need too much pressure to complete its own pumping function.
2. Scope of application: The trailer mounted concrete pump for sale is designed to meet the needs of fast special projects and construction sites, especially suitable for construction sites that can be completed in a short time and require special work; pump trucks are more suitable for low- and medium-rise buildings and complex buildings with particularly large volume requirements.
3. Pumping height: The pump truck is more flexible when it is equipped with a boom, but the pumping height is also more limited, generally up to 100m; although the truck mounted concrete pump is not as flexible as the pump truck, the pumping height is up to about 250m.
Original source: https://www.concrete-pump-cn.com/a/trailer-mounted-concrete-pump-for-sale-vs-concrete-boom-pump.html
Tags: truck mounted concrete pump for sale,
Previous: Truck Mounted Ready Mix Concrete Pump
Next: JBT30 Concrete Mixer with Pump VS Concrete Boom Pump