JBT30 Concrete Mixer with Pump VS Concrete Boom Pump
Posted On: 28/02/2023 | Posted by: Haomei Concrete Pumps
Both Concrete mixer and pump and concrete boom pump are the important construction equipment in engineering construction. so what is the difference between the two? Take JBT30 concrete mixer with pump and 32m concrete pump for example.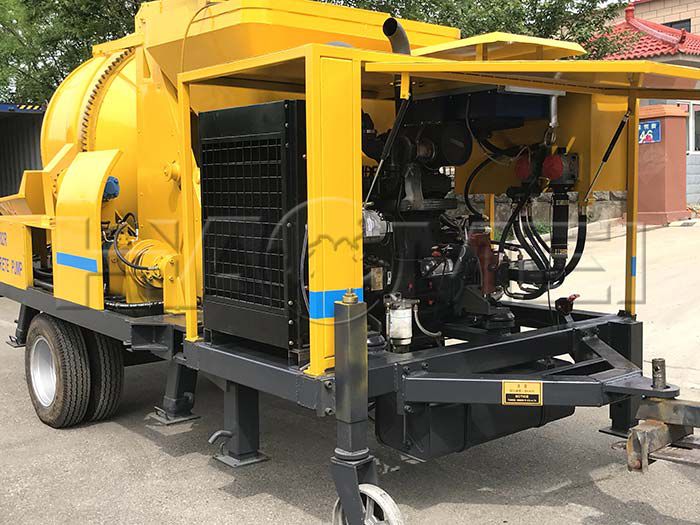 Different mobility
The concrete boom pump can transport concrete to a certain height by itself, making up for the shortcomings of other concrete pumps. It is equipped with a car chassis, so compared with the concrete pump trailer, it can walk independently and is very convenient to move from one construction site to another.
Different structure
The concrete boom pump truck truly achieves mechanized construction with four sections of booms and remote control. The whole machine is installed on the chassis of the truck with flexible movement and reasonable structural design. The body is smaller than the pump trucks in the same industry and occupies a small area. It is more suitable for construction in narrow spaces, convenient and flexible.
The concrete mixer with pump not only has the function of concrete pumping, but also concrete mixing. It can't walk independently, which must be towed by a tractor. For pumping, it relies on pipelines arranged by the workers. But its pumping height is usually higher than the commonly use concrete pump truck.
Different application scopes
The concrete pump truck is suitable for small and medium-sized construction operations like field construction and scattered construction sites. The concrete mixing pump is an ideal conveying equipment for rural construction and foundation construction of water conservancy and hydropower projects.
Different prices
The concrete pump truck is relatively mobile, but its price is also very high. The new equipment price costs hundreds of thousands of dollars. The cement mixer pump truck usually takes tens of thousands of dollars. The JBS40 cement mixer pump truck only needs 30,000 dollars.
Original source: https://www.concrete-pump-cn.com/a/jbt30-concrete-mixer-with-pump-vs-concrete-boom-pump.html
Tags: concrete mixer and pump,
Previous: Trailer Mounted Concrete Pump for Sale VS Concrete Boom Pump
Next: Small Boom Placer Concrete Pump Truck