How to Choose Concrete Pump Machine for Sale
Posted On: 31/10/2023 | Posted by: Haomei Concrete Pumps
There are 7 common pump truck lengths, namely 21m, 24m, 28m, 30m, 33m, 38m, 35m, and 37m. Those with a boom length less than 30 meters are called short-boom pump trucks like 20 meter concrete pump. The conventional boom pump truck is between 30-40 meters and the long boom pump truck is between 40-50 meters.
When the pump truck boom is working, it is directly driven by the boom cylinder. The expansion and folding of the boom is realized through the expansion and contraction of the oil rod of the boom cylinder. The boom cylinder is controlled by a hydraulic multi-way valve, and the multi-way valve is controlled by the joystick of the wireless remote control, realizing remote control of the boom.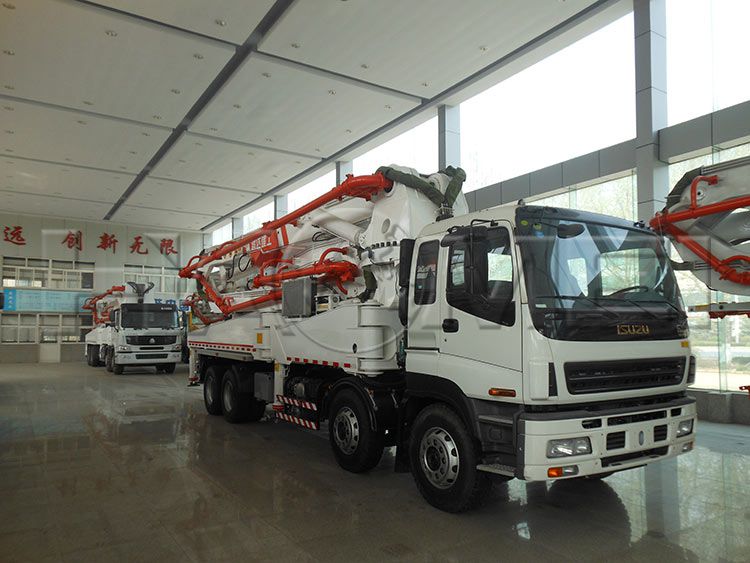 The small concrete pump truck has its own booms. Unlike the concrete pump trailer that requires pipes to pump concrete and whose pipes need to be removed after construction is completed, using small boom pump trucks for construction makes the process more streamlined and requires less labor. It can help the construction party effectively save construction labor costs.
How to correctly choose a small pump truck? In addition to the amount of concrete, the type and structure of the building, construction technical requirements, site conditions and environment should also be considered when selecting a model. Usually, the main performance parameters of small pumps should meet the construction requirements or be slightly larger.
After the customer determines the chassis model, the customer must choose the boom length according to one's actual needs. The longer the pump truck boom, the higher the price. The lengths of pump truck booms currently on sale in the market range from 18 to 78 meters.
During construction, the boom of a small concrete pump truck will vibrate to a certain extent, which is not a good thing for the boom. Because of the vibration, the boom will be subject to various deformation forces, which will cause the boom steel to easily undergo fatigue deformation.
This may cause the boom of the small concrete pump truck to crack and even cause serious safety accidents. Therefore, in the daily use of the concrete pump truck, the maintenance of the boom is very important. Welcome to leave message below to inquire concrete pump machine for sale.
Original source: https://www.concrete-pump-cn.com/a/how-to-choose-concrete-pump-machine-for-sale.html
Tags: concrete boom pump,
Previous: How to Operate 57 Meter Concrete Boom Pump
Next: What Are The Features of 52 Meter Concrete Pump