What Are The Features of 52 Meter Concrete Pump
Posted On: 07/11/2023 | Posted by: Haomei Concrete Pumps
Concrete machinery mainly refers to four types of products: concrete pumps (trailer pumps, truck-mounted pumps), concrete boom pump, concrete mixer trucks and concrete batching plant. According to statistics, the market demand for these four types of products is increasing with the continuous expansion of the use of commercial concrete.
Concrete pump trucks have always been known as the best selling one a due to their high technical content, high unit price, and high profit added value. Therefore, their development occupies the core of the market demand for concrete machinery.
A concrete pump truck is a mechanical equipment that transports concrete to the construction site. It consists of a pump body and a transmission pipeline, which can realize long-distance and high-altitude concrete transportation. Concrete pump trucks are widely used in construction, bridges, tunnels and other projects. 52 meter concrete boom pump is a popular choice.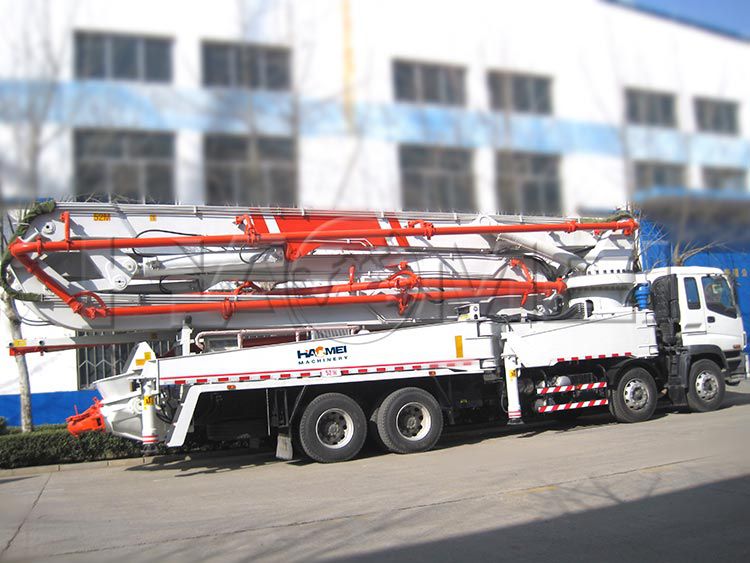 In terms of material selection, in view of the 52m concrete pump's high requirements on the boom reliability, Haomei Machinery chooses high-strength steel to manufacture the boom. The material yield strength reaches 900Mpa, which effectively guarantees the reliability of the boom during the operation.
In terms of manufacturing technology, we use robot welding technology, non-destructive testing technology and hydrogen elimination technology to ensure the accuracy of the boom manufacturing process. Robotic welding technology ensures the durability and wear resistance of the 52-meter-long boom; non-destructive testing technology allows each weld pass of the boom to be 100% non-destructive, ensuring the reliable performance of high-strength steel welding.
The application of hydrogen elimination treatment technology controls the welding residual stress and deformation of the boom, which improves the safety and reliability of the boom while ensuring the working strength of the boom.
The hydraulic system adopts advanced adaptive buffering technology to effectively reduce the impact caused by the pump truck's reversal, reduce the shaking amplitude of the boom during the pumping process, and make the operation more comfortable.
The structural parts and fatigue optimization design of the 52-meter concrete pump truck make its laboratory life reach 400,000 cubic meters without cracking, basically reaching the same advanced level in Europe.
The hydraulic system of the 52-meter concrete pump truck adopts a large-flow electronically controlled valve group, which has been identified and recognized by professional institutions in both theoretical design and flow and pressure testing.
The wireless remote control adopts the well-known German brand HBC, which realizes stepless speed adjustment of the boom, runs more smoothly, reduces the shaking of the end hose, and ensures the accuracy of the pumping. Welcome to visit our truck mounted line pump factory to learn more.
Original source: https://www.concrete-pump-cn.com/a/what-are-the-features-of-52-meter-concrete-pump.html
Tags: concrete boom pump,
Previous: How to Choose Concrete Pump Machine for Sale
Next: China Truck Mounted Line Pumps for Sale