An Overview of Tow Behind Concrete Pump
Posted On: 14/09/2022 | Posted by: Haomei Concrete Pumps
In recent years, the upgrading of concrete pumps has developed rapidly. From concrete pump trailer, truck mounted concrete pump, to boom pumps, he functions have been gradually improved. However, due to the limitation of the height of the boom and the safety of the outriggers, it is very restricted in some narrow construction areas, and only the tow behind concrete pump is used.
The concrete line pump is the cheapest among the three, and there are electrical and diesel ones. The difference lies in whether the power source of the hydraulic system is provided by the motor or by the diesel engine.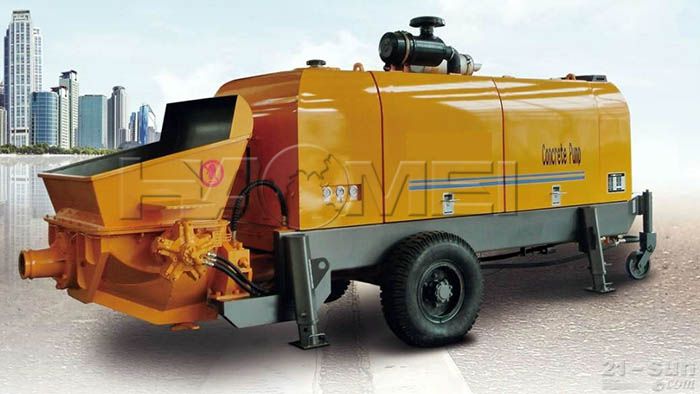 The running noise of the electrical concrete pump is relatively small while the diesel concrete pump is relatively flexible when working. If it is in a place where there is no sufficient power supply, it is of course safer to choose a diesel concrete pump trailer.
There are many factors that determine the pumping distance of the tow behind concrete pump. The first is the maximum pumping pressure of the equipment. The maximum pumping pressure directly determines the farthest pumping height and horizontal distance. Second, the properties of concrete can also affect how far it can be pumped. For the same machine, concrete with low strength can be pumped farther than concrete with high strength.
The pump pipe of the concrete line pump is usually used for high-rise or long-term concrete pouring projects. The conventional length is 3 meters, 2 meters, 1 meter, 0.5 meters or even shorter as the regulating tube.
When there is no difficult operation, DN125 high pressure or low pressure can be selected. Because of the pressure bearing, the material is mostly 20# steel. The steel pipe of 20# steel has toughness and is not easy to burst.
When concrete is pump horizontally and the distance is not very far, straight seam pipe can be used, which is low cost. Of course, it is recommended to use seamless pump pipe when the budget is sufficient.
The unique and creative open hydraulic system of Haomei mini concrete pump for sale integrates the advantages of open and closed type, with high system efficiency, good heat dissipation and stable operation. The hydraulic control part adopts the products from the first-line brands. The advanced S-pipe valve system has good sealing performance, simple structure and convenient replacement of wearing parts. Welcome to leave message below to inquire what you need.
Original source: https://www.concrete-pump-cn.com/a/an-overview-of-tow-behind-concrete-pump.html
Tags: concrete pump trailer,
Previous: Length of Pump Concrete Truck
Next: How to Buy and Debug Concrete Mixing Pump