Length of Pump Concrete Truck
Posted On: 14/09/2022 | Posted by: Haomei Concrete Pumps
The length of a pump concrete truckdoes not refer to length of the truck body but the parallel length of its placing boom when the boom totally stretch out parallelly. It's worth mentioning that the length does not include that of the rubber tail tube.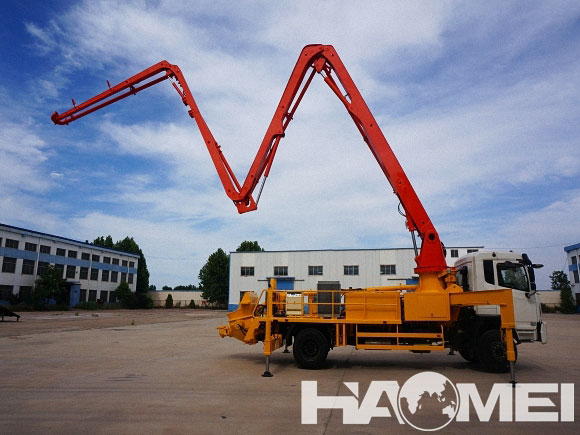 It's said that the longest pump concrete truck in China is 101 meters. It entered the Guinness Book of Records for its length. In July 28, 2013, the truck had its first construction practice in the building of Wuhan Center. Long placing boom constantly sent ready concrete onto the roofing part of the fourth floor. It had seven pieces of fiber structural arms, which helped to reduce the whole weight of the placing boom by 40 percent. This solved the cracking problem of traditional steel placing booms. Carbon fiber was applied to the making of its oil tank so that the weight of the pump concrete truck was reduced by over 15 percent, which was helpful not only in improving strength of the tank but in expanding its service life. The truck could deliver as much as 245 metric meters of ready concrete per hour.
Pump concrete trucks have been invented for distant delivery of concrete in special construction sites. Nowadays most tall buildings have underground parking lot. Hollow ground surrounding a high building makes it impossible for heavy construction machines to stand nearby, in which case a pump concrete truck with long placing boom serves as a perfect choice. It can stand tens of meters away from a targeted building and operate smoothly. Haomei, pump concrete truck manufacturer with over ten years of exporting experience, supplies pump concrete trucks of various specifications. If you have further questions, welcome to contact feedom@haomei-machinery.com or wechat/whatsapp 008615978414719 and we'll reply at the earliest time.
Original source: https://www.concrete-pump-cn.com/a/Length_of_Pump_Concrete_Truck_162.html
Tags: concrete boom pump,
Previous: What are the types of concrete pump trucks
Next: An Overview of Tow Behind Concrete Pump