What should pay attention to when installing small concrete
Posted On: 09/01/2019 | Posted by: Haomei Concrete Pumps
What should we pay attention to when installing small concrete pump? This is a problem that many constructors are very concerned about.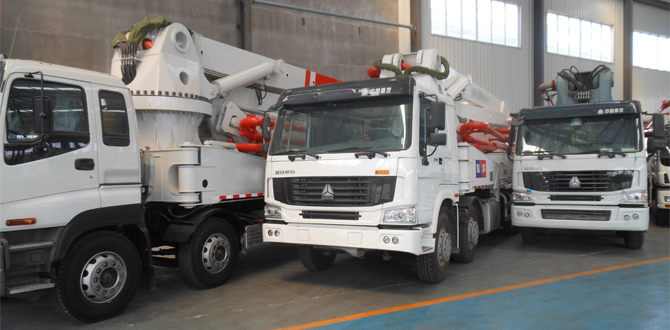 1. The hydraulic system of small mitsubishi concrete pump should be equipped with safety device to prevent overload and hydraulic shock during installation. The adjusting pressure of general safety relief valve should not be greater than 110% of the rated working pressure of the system, and the rated working pressure of the system should not be greater than the rated pressure of the hydraulic pump.
2. The braking of mini concrete pump truck ensures that it is sensitive, reliable, effective and not deviating. At the same time, the procedures of embossing and towing printing meet the requirements of vehicle inspection, and the free travel of brake pedal meets the requirements of operation instructions.
3. The alarm device of concrete pump and emergency brake switch can ensure safety and reliability.
4. Platform board and protective railings of concrete pump should be complete and intact after installation. Safety warning signs and relevant operation instructions should be complete and conspicuous. Operating rooms should be equipped with fire extinguishing equipment.
Original source: https://www.concrete-pump-cn.com/a/what-should-pay-attention-to-when-instal.html
Tags: small concrete pump, small mits,
Previous: How to avoid boom breaking of boom pump
Next: Pumping height of concrete pump truck reach to 42 meters