Pumping height of concrete pump truck reach to 42 meters
Posted On: 14/02/2019 | Posted by: Haomei Concrete Pumps
Concrete pump truck is an excellent concrete construction equipment with high efficiency. The functions of automatic feeding, mixing, pumping and distributing are integrated with high degree of automation; the use of double horizontal axle forced concrete mixer greatly improves the performance of concrete, and the quality is stable and reliable; the efficiency of mechanized construction is 4-5 times that of manual construction, which reduces labor intensity and construction cost.
The vertical height of pumping concrete boom is 25 to 42 meters. Users can customize it according to their actual work needs.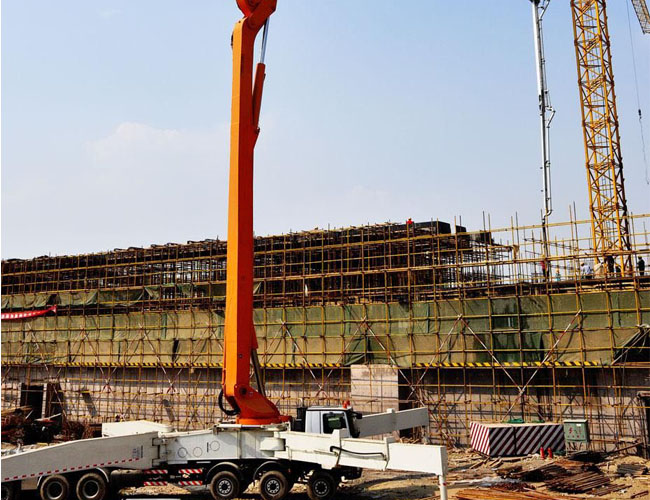 The concrete mixer pump adopts full hydraulic control system and oil pressure transmission signal, which makes the operation more simple and reliable, improves the swing cylinder reversing speed, reduces the reversing impact, and accelerates the instantaneous action of large cylinder reversing, which can make the concrete cylinder fully, strengthen the continuity of material and uniform discharge. Construction machinery industry is the equipment industry of national economy, the foundation of materialization of science and technology, the carrier of industrialization of high and new technology, and has a strong driving role in the construction of other industries, agricultural modernization and urbanization.
In addition, with the development of science and technology and the increasing demand for accelerating the construction period, reducing the cost of manpower and replacing manual operation by mechanization, mini concrete pump truck is gradually catering to the needs of the era of science and technology.
The development of agitating boom pump and pump truck tends to be high pressure and large displacement, so the hydraulic system will achieve higher pressure and flow rate, and require good control characteristics and work stability. Developing the integrated control of electricity and liquid, improving the control function, automatically regulating the operation of pumps and improving the reliability of components will constitute the development trend of trailer concrete pumps and pump trucks.
Original source: https://www.concrete-pump-cn.com/a/pumping-height-of-concrete-pump-truck-re.html
Tags: concrete pump truck, concrete m,
Previous: What should pay attention to when installing small concrete
Next: Portable concrete pump in the construction machinery market