Portable concrete pump in the construction machinery market
Posted On: 27/02/2019 | Posted by: Haomei Concrete Pumps
China portable concrete pump is really popular in the construction machinery market on account of its compact design, high-quality materials, convenient movement, broadly application and stable performance.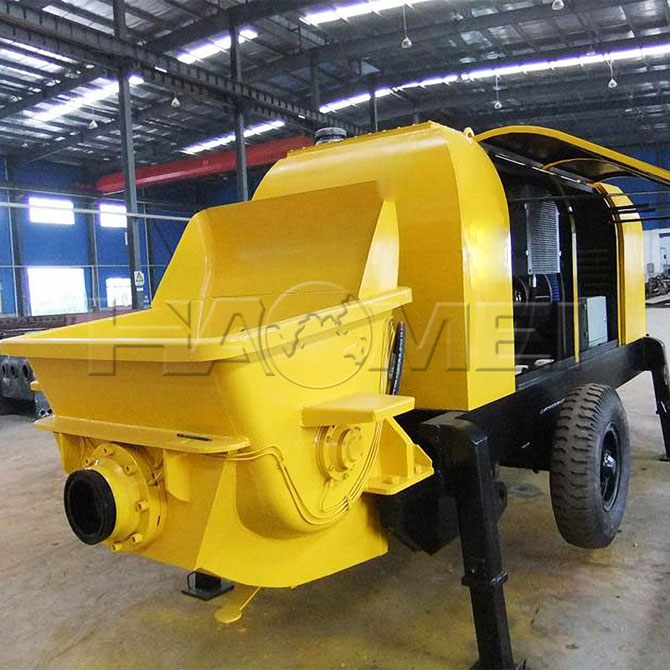 Portable concrete pump refers to a kind of concrete pump, which is designed to be easily carried or moved.
Another advantage of cement pump truck for sale is that it is very convenient to move them.
Portable concrete pump is the hot–sale concrete pumping equipment
which is the same as other types of cement pump truck, it is the concrete pumping equipment, which can ensure concrete conveying to construction site through pipes. While compared with others, it is more convenient to operate and maintain due to its features of movement. In general, equipped with tires, it can change construction sites more easily. Because of its compact structure, it can realize quick assembly and disassembly. Advanced electric control system can save a lot of time and labor. The important thing is that the pipelines convey concrete mixtures, which has less environment pollution
Thus portable pump truck greatly reduce the resistance in the process of transitions. Thus it has a great attraction to those projects which have to change particular construction sites. What's more,Its price is moderate。
Why choose China trailer concrete pump manufacturer?
First of all, most of our pump trucks are trailer-mounted concrete pumps. Compared with those pumps that cannot be moved, our portable pumps can be driven to different sites by motor tractors.On the other hand,As a famous concrete pump machine supplier, we are confident that our products can satisfy all of your construction needs.The portable concrete pump offered by China concrete line pump have more superior advantages of high efficiency and perfect performance in comparison with those concrete pumps provided by other manufacturers. The important thing is that we are specialized in manufacturing concrete pumps sale for many decades. With many years' production experience, our specialized manufacturing teams and workers can provide the best concrete pumps for you. Our concrete pumps portable have wide capacity among 20-90 m3/h, which is very appropriate for various constructions, such as highways, roads, bridges and buildings.
Original source: https://www.concrete-pump-cn.com/a/portable-concrete-pump-in-the-constructi.html
Tags: pump truck, schwing concrete pu,
Previous: Pumping height of concrete pump truck reach to 42 meters
Next: The type and working of concrete pouring equipment