Structure and advantages of a trailer concrete pump
Posted On: 01/08/2019 | Posted by: Haomei Concrete Pumps
The structure of a trailer concrete pump is roughly divided into the drive and the pump body.
1. Drive part: It is divided into two types: motor drive and diesel engine. According to the distance reached by the mixed mortar and the amount of transportation, the power of the electric motor or the diesel internal combustion engine can be reasonably configured.
2. Pump body part: The kinetic energy transmitted by the driving device drives the hydraulic cylinder to work, and the hydraulic cylinder has two sets of piston systems. When the mortar is injected into the hopper, the two pistons absorb one row and cooperate with each other to make a reciprocating motion. The sand slurry inside is piped to the target location.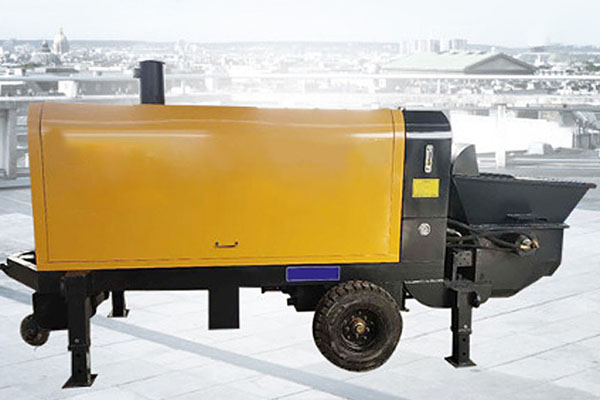 Advantages of a trailer concrete pump include small size, high efficiency and good adaptability to complex environmental conditions.
1.The cement pump machine is small in size and powerful in power, and can adapt to narrow construction environments. The concrete pump can be transported on the ground without moving back and forth, which greatly saves construction time and shortens the construction period.
2. A conrete pump trailer is high in both configuration and pressure. It adopts full hydraulic system operation, stable performance, low failure rate, long service life of the construction site, plus long pumping distance, good continuity and high transmission efficiency. It is used for engineering pouring and road construction. The construction of public works is a hundred times that of manual pouring.
3. A trailer concrete pump can adapt to the complex construction environment. Mountain roads, culverts, and infrastructure in rural areas are inseparable from the operation of fine stone concrete pumps. With only one generator, they can fight day and night, no chaos, no matter how far or near, greatly reducing the labor intensity of farmers and reducing. The labor cost of the project, pressing the "shortcut key" and "acceleration" for the construction of the new countryside.
A trailer cement pump machine is applicable in supplying concrete for small building projects in both urban and rural areas. After learning its structure and advantags, would you like to throw an inquiry to us? Welcome to estimate our professionalism any time!
Original source: https://www.concrete-pump-cn.com/a/trailer-concrete-pump-structure-advantag.html
Tags: trailer concrete pump, concret,
Previous: Advantages of concrete pump truck for sale | Haomei Machiner
Next: Automation of small truck mounted concrete pump for sale