Automation of small truck mounted concrete pump for sale
Posted On: 08/08/2019 | Posted by: Haomei Concrete Pumps
  The automation is especially for the small concrete pump truck for sale that will work in harsh environment and with high labor intensity. The concrete pump truck automation technology has achieved certain achievements. In the future, the small pump truck will be a high-tech product with high integration of electricity and liquid, making full use of digital control technology and intelligent sensing technology. The main features are as follows:
  (1) Anti-blocking control
  Pipe blocking is a common occurrence in concrete pumping. Anti-blocking pipe control uses pressure sensor to monitor the pipeline in real time. When the blockage occurs, the pressure inside the pipe will be abnormal. The pressure sensor will transmit this abnormal signal to the PLC. The PLC will immediately issue a warning and automatically take the dredging measures: first counter pump 2-3 times, then adjust the pumping parameters according to the blockage condition and then perform positive pump dredging.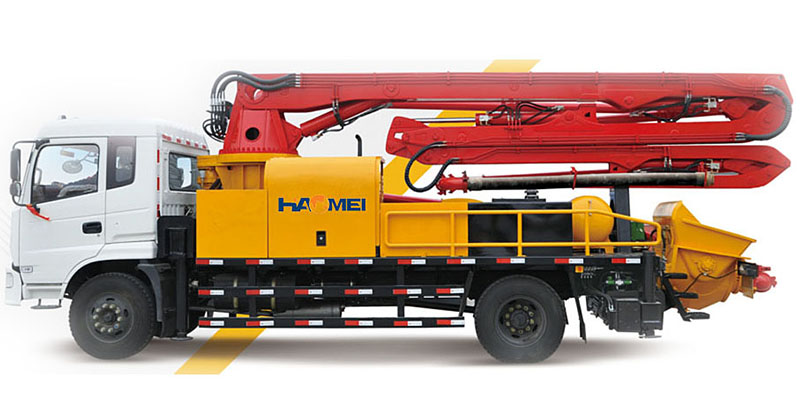 (2) Intelligent boom
  At present, the truck mounted concrete pump for sale can only directly control the movement of each boom by the operator, so that the boom moves to the ideal working position. Each arm of the intelligent boom is equipped with a position sensor, which realizes closed-loop control and motion coordinated control through a computer. In the future the coordinated action of multi-section arms can be realized so that the boom automatically moves to the target position in the best shape, which simplifies the boom control process, improves the control precision, and improves the construction efficiency. It is also possible to pre-set the movement path of the end exit of the boom so that the pump boom can be continuously clothed in the manner set by the program.
  (3) Anti-tip protection
  Firstly, the legs of the small concrete pump truck for sale can automatically carry out a series of tests such as the ground, the position of the legs and the level of the whole machine. When problems are found, the alarm will be alarmed and the boom can not be unfolded. When the boom is in operation, the PLC will still monitor the stability of the vehicle at all times. When the four legs are unstable, the boom will automatically stop moving in the dangerous direction and issue a warning. Maximum security.
  (4) fault diagnosis
  Due to the development of digital control technology, intelligent sensing and other technologies, fault self-diagnosis technology will eventually emerge, and concrete pump trucks will have a good man-machine interface. The computer monitors the whole machine. When a problem occurs, the computer can automatically recognize and communicate with the operator through the human-machine interface, clearly indicating the location of the fault and the type of fault.
  (5) The weight of the whole pump truck
  Due to the application of new materials, calculation methods and experimental methods, the design of the fabric arm of the small concrete pump truck is more flexible, lighter in weight and more powerful.
Original source: https://www.concrete-pump-cn.com/a/small-concrete-pump-truck-automation.html
Tags: truck mounted concrete pump fo,
Previous: Structure and advantages of a trailer concrete pump
Next: Factors influencing trailer concrete pump price