How to choose a concrete mixer with pump trailer
Posted On: 17/06/2021 | Posted by: Haomei Concrete Pumps
  To choose a suitable concrete pump with mixer trailer, you should at least focus on capacity, power type, performance and cost efficiency.
  Capacity
  Be sure to confirm your own needs, fully communicate with the manufacturer, and determine the maximum pumping volume and pipeline length based on the concrete pump's undertaking of the project and the size of the equipment construction project, the length of the cycle, and the frequency of transfer. If it is a high-rise building pouring, a suitable concrete pump should be selected according to the height of the building. When purchasing, you should ask the manufacturer for the maximum vertical pumping height of a pump.
  Power Type
  If the pump will be used in the wild, where there is no power supply or where three-phase power cannot be provided, it is best to use diesel-powered concrete trailer pumps. If the electricity continues to be sufficient, you can choose an electric concrete pump.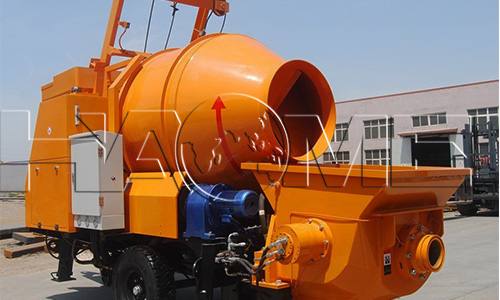 Performance
  When investigating the quality of a concrete mixer with pump trailer, you should start from the outside. First observe whether the appearance, painting, weld steel structure, etc. are smooth, beautiful and smooth. Then gradually check the performance and quality of the chassis engine, main hydraulic components, pumping system, slewing mechanism and slewing ring.
  Cost Efficiency
  Customers should not just compare prices when purchasing a trailer concrete mixer with pump. There is a saying in the sales industry: with the same product you should do better in quality, the same quality better in price, and the same price better in service. The same applies to the buyer. In the case of equal quality, it is necessary to consider whether the price and service are reasonable. When there are frequent problems with the concrete mixing pump, although the purchase unit price is slightly lower, quality problems frequently occur during the operation, and the after-sales quasi-repairing delays a lot of time, which delays the progress of the project, and the gain is not worth the loss. Mixing trailer pump manufacturers that provide high-quality after-sales service can help you save a considerable amount of service fee, which is much higher than the purchase cost of trailer pumps.
  Haomei trailer concrete mixer pump ranges from 20m3 to 120m3. The steel should be made of high-strength fine-grained carbon steel. The welding process requirements are very strict, the welds are beautiful, and they will never crack. The fuel consumption rate of the engine is reasonable, and the remote control operation is reliable and stable. Because the operating cost is only 1/2 of that of ordinary equipment, or lower. It is popular in villa construction, water conservancy, and road construction.
Original source: https://www.concrete-pump-cn.com/a/trailer-concrete-mixer-with-pump.html
Tags: concrete mixer with pump trail,
Previous: Concrete pump machine trailer diesel
Next: Is a diesel trailer concrete pump expensive