Concrete pump machine trailer diesel
Posted On: 10/06/2021 | Posted by: Haomei Concrete Pumps
  A concrete pump machine trailer diesel has a similar structure to an electric concrete trailer pump, consisting of the main power system (the diesel motor), the pumping system, and the hydraulic and electronic control system. The pumping system functions to send ready mix concrete to the pouring point along the pipeline. The length of the pipeline depends on the distance of between the trailer pump and the point. The control system functions to control and protect the pump from unusual operation states.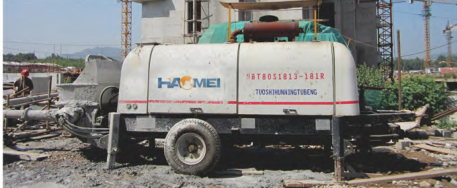 Although a diesel trailer concrete pump seems to differ from an electric pump only in the motor type, this leads to differences in volume, delivery and even application conditions. First, the power costs are different. In China people prefer electric pumps to diesel ones because electricity is sufficient and cheap in most regions. In some countries that are lack in electric supply, however, a diesel concrete pump machine trailer proves to be more popular, for the cost of electricity is much higher, and the supply of electricity is intermittent. Second, the price of diesel concrete trailer pumps is higher. A diesel pump has its unique control box, hydraulic system, frame and other power structure. One set of diesel pump is about 50,000RMB more expensive than an electric pump of the same capacity. Third, the volume and weight of a diesel pump is bigger than an electric one, thus the frame is larger, too. This adds to difficulty and cost in delivery.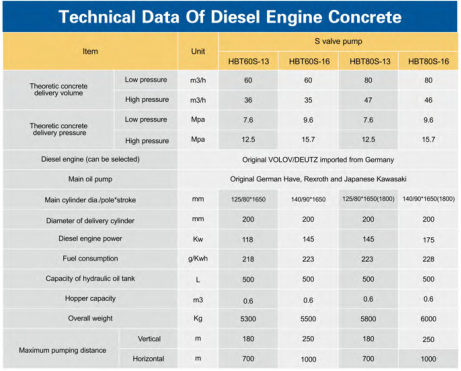 However, diesel trailer concrete pump machines have their own advantages, too. They are strong in power, good in pumping effect and flexible in site. If you need to pump large volumes of concrete, or pump concrete to a big height, diesel pumps would be a better choice. Our concrete pump machine trailer diesel is of 30m3, 40m3, 50m3, 60m3, 70m3, 80m3, 90m3 and 120m3. Welcome to contact us for a price.
Original source: https://www.concrete-pump-cn.com/a/concrete-pump-machine-trailer-diesel.html
Tags: Concrete, pump, machine, trailer,
Previous: Trailer concrete mixer pump
Next: How to choose a concrete mixer with pump trailer