Problems encountered in practical operation of boom pump
Posted On: 31/07/2018 | Posted by: Haomei Concrete Pumps
The concrete boom pump truck is now widely used as a building vehicle. Of course, concrete pump trucks are also more complex to operate than ordinary mixer trucks which requires very experienced drivers to operate. Concrete pump truck is a kind of heavy building vehicle, concrete pump truck is also very easy to appear accident vehicles, but reasonable understanding and attention to the following points can avoid it accident.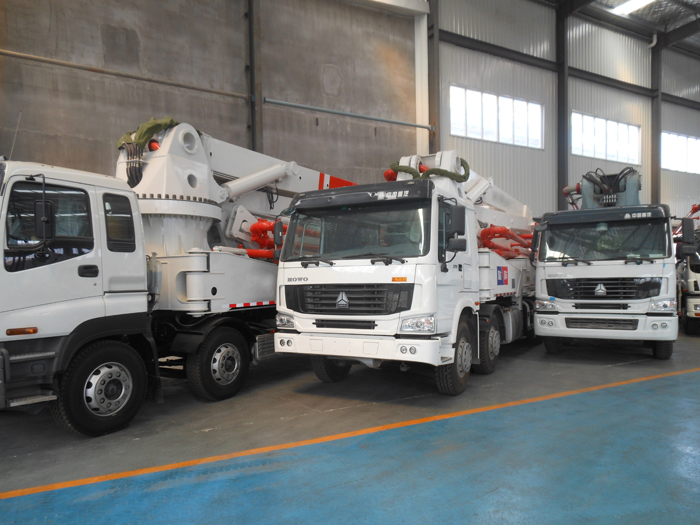 When the boom pump mixing hopper fails, the operator needs to clear the concrete in the hopper. If someone mistakenly operates the machine, the cleaning personnel will be injured. When the agitator fails, the maintenance personnel repair the stirrer in the hopper. When another person starts to test it, the maintenance personnel will suffer. To hurt.
When the trailer concrete pump launches, four legs support the weight of the whole truck-mounted concrete pump and the volume of the working concrete pump. If the construction site is not flat, the leg of the pump is unevenly, and it will turn over.
The accident of concrete pump capsizing happens from time to time.
When the concrete pump truck completes the pouring task, the operator is anxious to finish the work. When the distributing rod is not retrieved, the supporting leg is retracted, causing the turning over accident.
The accident of the pump boom is similar to the electric shock accident of the crane. As the isuzu concrete pump truck is in the cloth operation, the cloth rod needs to raise the work, and the arm is easy to close to the high voltage wire near the construction site, causing the electric shock accident.
Original source: https://www.concrete-pump-cn.com/a/problems-encountered-in-practical-operat.html
Tags: isuzu concrete pump truck , boo,
Previous: How to check the leakage of the concrete pump boom
Next: Field operation requirements for concrete pump truck