Operational Specification Of Boom Concrete Pump
Posted On: 23/01/2017 | Posted by: Haomei Concrete Pumps
Boom concrete pump can only be used for delivery, not allow to lifting heavy objects;Before moving must determine the boom and leg have been completely collapsed and has been fixed, otherwise they may not be driven on the road.
Into the scene must be properly equipped with a helmet, the operator certificate. Do not allow the boom concrete pump operator to drink after work, fatigue, is strictly prohibited in the construction site slapstick.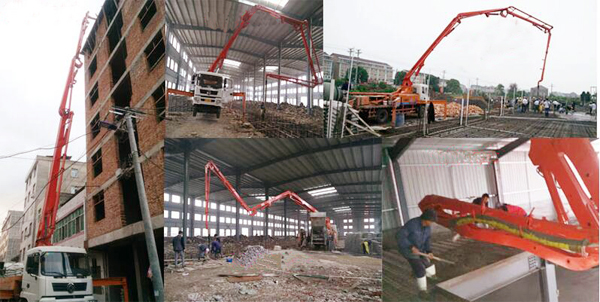 Installation before leg, check to ensure that the foundation bearing capacity is enough, lack of reliable measures taken, supporting the ground must be level;Installing a leg, to prevent the body is divided into the leg and between other objects.Pour out, all the leg should be fully developed in place before operating arm frame according to the concrete boom truck operation and using the specified in the order .
In places where there is a wire to be careful operation, attention and wires to maintain an appropriate distance, to avoid touching the wire; wind speed of more than 6 or have to stop the storm.
Easy to be ignored is that operators to understand the operation of the mechanical properties and vulnerable parts, awareness can cause injury to the dangerous parts and phenomena; found abnormalities in time to take measures and notify the squad leader, until the failure to deal with or take appropriate measures to continue to work.
The resource is from http://concrete-pump-cn.com,Further cooperation and inquiry free contact our Email:info@haomei.biz
Original source: https://www.concrete-pump-cn.com/a/operational-specification-of-boom-concre.html
Tags: boom concrete pump, concrete bo,
Previous: The Market Survey Of Schwing Concrete Pump
Next: The Cement Pump Truck Pumping Concrete