js5oo mixer diesel trailer mounted concrete pump
Posted On: 15/07/2021 | Posted by: Haomei Concrete Pumps
js5oo mixer diesel trailer mounted concrete pump
is a high efficient compulsory concrete mixer pump with a 0.5 cubic meter drum. Owing to the fact that JS500 mixer usually matches HZS25 and HZS35 concrete batching plants as the main mixing machine, the capacity of the js500 diesel trailer concrete mixer pump is between 20m3 to 40m3 per hour. Such a pump differs from ordinary
concrete mixer pump
s in its motor type and mixer type.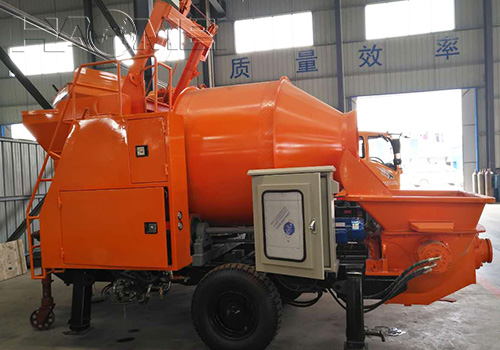 The js5oo mixer diesel trailer mounted concrete pump is equipped with a JS500 concrete mixer rather than a traditional drum mixer. The js500 mixer is a multi-functional concrete mixing machine, which is more efficient than traditional drum mixers, and can mix hard, plastic, fluid, lightweight aggregate concrete and various mortars. Js500 mixer consists of mixing system, feeding system, water supply system, unloading system and electrical system. The mixing system is composed of a motor, a pulley, a reducer, an open gear, a mixing drum mixing device, an oil supply device and so on. The feeding system is composed of a hoisting mechanism, a feeding rack, a hopper, and a feeding nozzle. The brake motor drives the reel to rotate through the reducer. The wire rope is pulled by the pulley to crawl the hopper along the rail of the loading rack. When it climbs to a certain height, a pair of rollers on the bucket door at the bottom of the hopper enters the horizontal fork of the loading rack, and the door opens automatically. , The material is put into the mixing drum through the feed hopper mouth. The water supply system is composed of a water pump, a throttle valve, a cleaning device, and a spray device. The unloading system is composed of unloading door and unloading manual operating lever. The unloading door is installed at the bottom of the mixer, and the electric push rod is used to realize motorized unloading. The electrical control circuit is equipped with circuit breakers, fuses, and relays, which have the function of short-circuit protection and overload protection.
The motor type of the mixer pump is diesel, which means larger volume, stronger power and stabler operation of the pump. A diesel pump is usually applied to projects of tall buildings and sites without sufficient electric supply. It's much more expensive than an electric pump, and the extra cost even covers that of a generator.
Original source: https://www.concrete-pump-cn.com/a/js5oo-diesel-trailer-concrete-mixer-pump.html
Tags: js5oo mixer diesel trailer mou,
Previous: Ratio control of cement for concrete trailer pump
Next: Solution to tube plugging of trailer concrete pump