How to select concrete pump trucks
Posted On: 26/09/2017 | Posted by: Haomei Concrete Pumps
How to select concrete pump trucks?Concrete pump trucks type selection should be based on concrete engineering objects, the characteristics and requirements of maximum transmission distance, concrete construction plan, concrete pump form and specific conditions into account.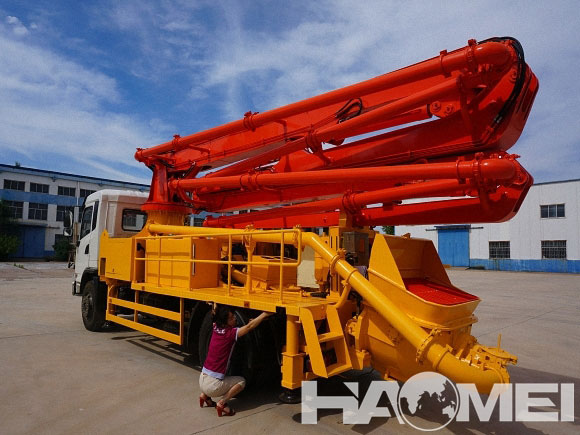 Annual output of 10 to 150000 M3 of concrete batch plant, need to select 2 ~ 3 concrete pumps equipment.
The performance of the trailer concrete pump vary with models, when choosing model besides into considering concrete pouring quantity, also should consider the type of building and structure, construction technical requirements and site conditions and environment, etc.Usually choose the main performance parameters of the concrete mixer pump should be consistent with the construction requirements, or larger, if the capacity is too large, the utilization rate is low, is too small, not only can't satisfy the requirements will also accelerate the loss of concrete pump.
on the other hand,Concrete boom pump has the flexibility, and the higher the boom height, pouring the greater height and radius of fabric, construction are more flexible, should try to choose high boom in construction of boom pump .Boom length 28 ~ 36 m concrete pump boom is enormous quantity wide products on the market, accounting for about 75%. The long arm frame concrete pump boom will be the main model in the construction.
It is important to note that the concrete pump boom is limited by the bearing capacity of automobile chassis, when the boom height more than 42 m cost increase a lot, and is subject to the restrictions of the construction site space, so general rarely use.
Zoomlion concrete pump adopts full hydraulic pressure technology, so consider all the advanced hydraulic technology, hydraulic vision quality.Because of its power from the engine, so in addition to the engine performance and quality, but also the performance of the automobile chassis, bearing capacity and quality, etc.
Concrete trailer pump is equipped with manual operation control system, wired and wireless empty methods, convenient and flexible control of the cable, wireless remote control can remote operation, once the circuit failure, can adopt manual operation mode.
Original source: https://www.concrete-pump-cn.com/a/how-to-select-concrete-pump-trucks.html
Tags: concrete pump trucks, concrete,
Previous: To know about the function of concrete pump trucks
Next: The characteristics of truck-mounted concrete pump