How to operate a small concrete pump truck safely
Posted On: 14/01/2020 | Posted by: Haomei Concrete Pumps
  Small concrete pump trucks has become inevitable in the construction industry. Some operators remain confused about how to operate small pump trucks safely, which proves to be fatal since inappropriate operation might lead to occurrence of accidents and even injuries. How to operate a small truck, then?
  First, the concrete pump truck must stand in solid flat ground with no barrier around or high-voltage lines above. Parking a truck at a slope is strictly forbidden.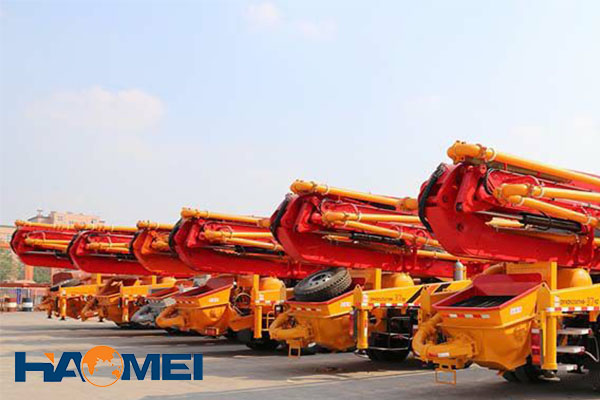 Second, once a small concrete pump truck gets at its place, the supporting legs should be stretched out immediately to keep balance of the truck. The night lamps must be opened during night to avoid accidental collision of the pump and other vehicles.
  Third, check the temperature of hydraulic oil before having the pump getting into work, and the pump should be made to run for a longer time than usual until the oil temperature gets 15 degree above.
  Fourth, before pumping, the operator should inspect the pump, the mixer, the instrument parts and indicator lights, and it's forbidden to start the pump until everything is normal.
  Haomei Machinery supplies small cement pumping machines and big concrete pump trucks. Welcome to contact us for more information!
Original source: https://www.concrete-pump-cn.com/a/how-to-operate-small-concrete-pump-truck.html
Tags: small concrete pump truck, con,
Previous: How to Solve Pipe Blockage of Concrete Trailer Boom Pump
Next: Cement pump machine for sale