Cement pump machine for sale
Posted On: 18/02/2020 | Posted by: Haomei Concrete Pumps
Cement pump machines have attracted the attention of construction companies with their function in shortening construction periods. However, there are so many types of concrete pumps that new purchasers are bewildered in choosing a suitable. Here we reveal the secret.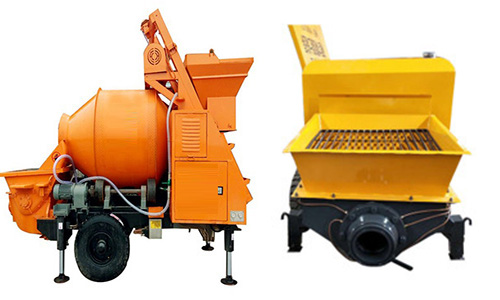 1. Concrete mixing pump
This includes trailer concrete mixer pumps and truck-mounted concrete pumps. Agitating trailer pumps cannot walk independently. Compared with other concrete pumps, the mixing pump has added the mixing function and can be mixed on site.
2. Concrete Ground Pump
The ground pump is also called a trailer concrete pump. Because there is no car chassis, it cannot walk independently, but there are tires that can be towed to the work site by a tractor. Ground pumps are equipment designed to perform concrete conveying and pouring tasks.
3. Concrete Truck-Mounted Pump
The concrete truck-mounted pump is based on the concrete ground pump, which adds a car chassis and can walk alone, so that it has a fast transition.
4. Concrete Sky Pump
The sky pump is also called a boom pump. It is also often called a concrete pump truck. Because it has its own independent support, it can transport concrete without laying pipelines. Generally, the concrete pump truck has very good flexibility and fast speed. However, compared with other concrete pumps, its maintenance and use costs are relatively high. Because of the limited height of the operation, the site requirements are very high.
5. Concrete Pump Truck
Also known as a stirring sky pump, a concrete pump truck is a boom pump with a stirring system.
Haomei has cement pump machine for sale of all the types above. If you need any of them, welcome to contact us.
Original source: https://www.concrete-pump-cn.com/a/cement-pump-machine-for-sale.html
Tags: cement pump machine, cement pu,
Previous: How to operate a small concrete pump truck safely
Next: China concrete pump truck price