China concrete pump truck price
Posted On: 14/04/2020 | Posted by: Haomei Concrete Pumps
  China concrete pump truck price is determined according to the model of the truck. With a pump truck the ready mix concrete is powered by the hydraulic system and pumped to the construction site through the boom. A pump truck features high flexibility, simple structure, full hydraulic operation, easy operation and high efficiency, fast construction and good quality, very suitable for concrete construction in narrow spaces.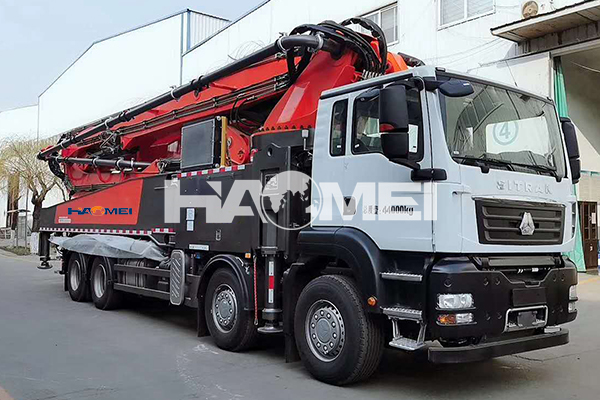 In China the concrete pump truck price is generally between 300000 and 900000RMB. A Concrete pump truck is a kind of machinery that uses pressure to continuously transport concrete along the pipeline, which is composed of pump body and conveying pipe. According to the structure, it can be divided into piston type, extrusion type and water pressure diaphragm type. The pump body is installed on the car chassis, and then equipped with a retractable or flexible distributing rod to form the pump car.
  Not a few factors influence the price of a China concrete pump truck. The first is capacity, mainly reflected by boom length that further decides capacities and powers of machines of the whole truck. The second is steel price, since steel serves as the key material for parts of a truck. The third is quality, which naturally relates to brand popularity and technology level. That's why brands like Sany and Zoomline are searched a lot online.
Original source: https://www.concrete-pump-cn.com/a/china-concrete-pump-truck.html
Tags: concrete pump truck price, chi,
Previous: Cement pump machine for sale
Next: How to solve motor failures of a cement pump machine