How to lay pipes inconstruction of trailer concrete pump
Posted On: 23/04/2019 | Posted by: Haomei Concrete Pumps
The transportation way of
trailer concrete pump
is through pipeline, so the installation and fixing of concrete towing pump pipeline is very important, which is also very heavy for the safety of construction. If the pipeline fixing of concrete towing pump is not reliable, it may affect the construction and even lead to safety accidents. For many customers who buy Concrete tow pumps, how to install a fixed concrete tow pump pipeline is a matter of great concern to them.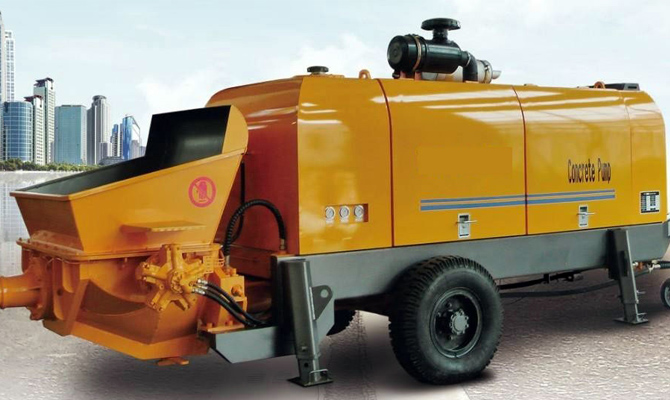 The used schwing concrete pump is simple to operate, easy to move, and the failure rate of equipment is low. The concrete pump brands provided by Haomei Machinery not only guarantees the quality of products, but also makes you more comfortable to buy and use.
How to lay pipes inconstruction of trailer concrete pump?
1. It must be noted that the concrete towing pump pipes should not be directly supported on steel bars, formwork and embedded parts.
2. Horizontal pipes should be fixed with brackets, cushions and hangers at regular intervals so as to remove blockage, assemble, disassemble and clean pipes.
3. When the vertical pipe is fixed on the scaffold, the scaffold can be strengthened as needed.
4. Vertical pipes should be fixed with embedded parts at the retaining holes of walls and columns or floor roofs.
5. The bend at the lower end of the vertical pipe should not be used as the support point of the upper pipe, and the steel support should be set up to bear the weight of the vertical pipe.
6. On walls and columns, each pipe shall not be less than one fixed point, and at the reserved holes in each floor shall be fixed.
7. When fixing the concrete pressure pump pipeline, attention should be paid to the sealing at the pipe clamp of each section of the pipeline, so that no leakage of slurry can occur.
After installing the transportation pipeline, the in line concrete pump should pay attention to the correct operation method in the process of pumping, otherwise it will cause damage to the construction personnel's body due to improper operation, mainly: the damage caused by the body part entering the hopper or moving mechanism when the pump is working; the damage caused by the piston extending its hand into the washing room when the piston is running; the damage caused by concrete and hydraulic oil Eye injuries caused by splashes or other chemicals; electric shock injuries caused by damaged internal and external protection of cables.
Original source: https://www.concrete-pump-cn.com/a/how-to-lay-pipes-inconstruction-of-trail.html
Tags: trailer concrete pump, schwing,
Previous: Application skills of trailer concrete pump in construction
Next: The change of construction way by small concrete pump