Application skills of trailer concrete pump in construction
Posted On: 18/04/2019 | Posted by: Haomei Concrete Pumps
Requirements for concrete pouring by trailer concrete pump :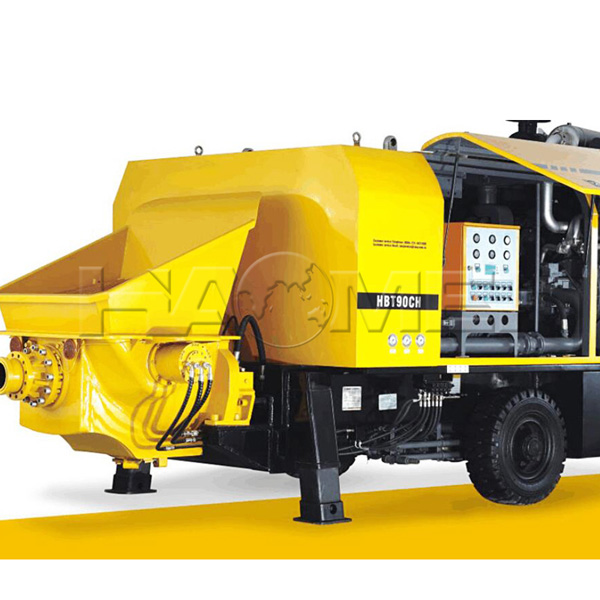 The selection of trailer concrete pump should be considered comprehensively according to the specific project objectives, characteristics, maximum transportation capacity, maximum transportation distance, concrete construction scheme, concrete pump form and specific conditions. The performance of concrete pump varies randomly. The selection of cement pumping machine should consider not only the amount of pouring, but also the type and structure of buildings, construction technology requirements, site conditions and surrounding environment. Usually the main performance parameters of cement pumping machine should meet the construction requirements. If the capacity is too large, the utilization rate is low. If the capacity is too small, not only can not meet the construction requirements, but also accelerate the loss of concrete truck boom.
As a special vehicle, inline concrete pumping has higher requirements for safety, mechanical performance, after-sales service and spare parts supply due to its special functions.
The influence of cement, aggregate and cement on pumping concrete:
The quality of concrete not only affects the safety of structure, but also affects the cost of structure, which determines the safety and function of structure. Therefore, in the construction process, measures must be taken to effectively control various factors affecting the quality of concrete, avoid common quality defects, achieve the goal of prevention-oriented, and ensure the quality of concrete construction.
Selection of new concrete pump and pumping technology:
The selection of new concrete pump should be considered comprehensively according to the objectives, characteristics, requirements for maximum conveying capacity, maximum conveying distance, concrete pouring scheme, concrete pumping form and specific conditions of concrete projects.
The concrete pressure pump is flexible. The higher the lifting height is, the higher the pouring height and material distribution radius are, accounting for about 75%. Concrete boom pump will become the main type of construction. The concrete batching plant with annual output of 100-150000 m3 needs 2-3 concrete trailer pumps.
Original source: https://www.concrete-pump-cn.com/a/application-skills-of-trailer-concrete-p.html
Tags: trailer concrete pump, inline c,
Previous: 30m 33m 37m concrete boom pump with remote control
Next: How to lay pipes inconstruction of trailer concrete pump