How to avoid traps in buying cement pumping machines
Posted On: 15/09/2020 | Posted by: Haomei Concrete Pumps
  The purchase of a cement pumping machine requires comprehensive consideration based on the project status and the manufacturer's status. So what should be paid attention to when purchasing a concrete pumping machine for the first time? Specifically, attention can be paid from the following aspects:
  1. Visit peers
  When purchasing a concrete mixing pump, it is recommended to visit your peers first to understand the actual usage in detail before communicating with the manufacturer so that you can purchase suitable mixing pump equipment. How to find a colleague? You can visit a local construction site or find a project case video on a small video website.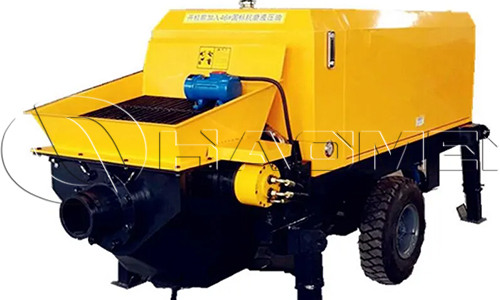 2. Visit the factory
  Choose a concrete pump for sale produced by regular manufacturers. Before purchasing, first go to the manufacturer to check the company's strength, actual equipment, and ask about the configuration, price, after-sales service and other issues.
  3. Try not to use second-hand pump
  Although second-hand pump is cheaper, the original manufacturer generally does not provide after-sales service for the second-hand phones purchased. Even if after-sales service is provided, the charge is not low.
  4. Sign the contract
  Signing a contract is very important. Directly sign a contract to purchase with the manufacturer's sales office, and try to avoid intermediate links to facilitate maintenance services. When purchasing concrete mixer with pump equipment, there are many factors that affect the selection of mixing and mixing pumps. It is recommended to consider comprehensively when purchasing. The selection should be based on actual needs and apply certain technical reserves to ensure that there is a certain amount of development staying power.
  5. Pay attention to the purchase of concrete pump invoice, vehicle certificate, warranty card, visual inspection of vehicle sound including paint inspection, assembly flatness and so on. When buying concrete mixer trucks, try to buy big brands, and the quality is guaranteed.
Original source: https://www.concrete-pump-cn.com/a/how-to-avoid-traps-in-buying-cement-pump.html
Tags: cement pumping machine, cement,
Previous: Diesel and electric mini trailer concrete pumps, which one i
Next: Mini concrete pump truck 18m to 45m