Mini concrete pump truck 18m to 45m
Posted On: 24/09/2020 | Posted by: Haomei Concrete Pumps
  A mini concrete pump truck falls on small pump trucks with a boom length of 18m to 45m. Small pump trucks are currently a general term. For rural users, everyone is not very clear about the specific classification of pump trucks. Small pump truck refers specifically to the concrete pump truck of 39 meters and below. At present, there are 18 meters, 24 meters, 28 meters, 30 meters, 34 meters, 39 meters, and 45 meters in the practical type of mini concrete pump trucks. Small pump trucks are mainly aimed at rural markets or small construction sites, where the pumping volume and cloth area are not large each time.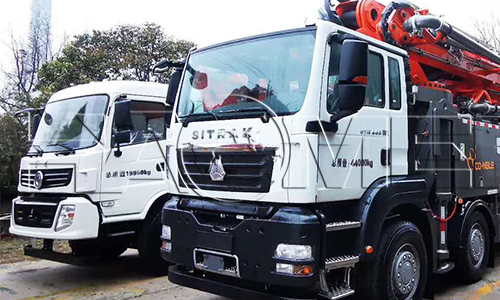 The small truck mounted pumping concrete machine has a car chassis, so it can walk. In addition, it has its own boom, so it is very convenient to use. It is loved by many high engineering construction friends and individuals. Because it can really bring wealth to buyers. The vehicle-mounted pump body and chassis hopper are mainly used for loading and transporting concrete, and the vehicle chassis can help walking. The built-in concrete mixing equipment is the 500 forced mixer commonly used on construction sites, which automatically mechanizes concrete mixing. The pipeline for conveying concrete uses a foldable boom, which can be freely expanded and contracted, and it is quite convenient and intelligent to adjust itself according to the needs of the construction. The number of sections to be folded is determined by the conveying height. Therefore, the higher the conveying height, the longer the boom and the more boom sections are often required. The power part of a a mini concrete pump truck usually has two branches.
  The whole mini concrete pump truck can be operated by one person from pumping to cloth, and is equipped with a remote control system, which is easy to operate; it has good maneuverability and can be quickly transferred to another place to continue the operation after the operation is completed. The equipment utilization rate is high and it can be responsible for several concrete pumping tasks at the same time. With the strengthening of urban traffic management and the development of concrete pumping equipment rental business, vehicle-mounted pumps are developing in the direction of high pressure, large displacement, high reliability, high efficiency, energy saving, intelligence, and electro-hydraulic integrated control.
Original source: https://www.concrete-pump-cn.com/a/18m-45m-mini-concrete-pump-truck.html
Tags: mini concrete pump truck, conc,
Previous: How to avoid traps in buying cement pumping machines
Next: Small concrete pump for sale in China