Small concrete pump for sale in China
Posted On: 04/02/2021 | Posted by: Haomei Concrete Pumps
  We have small concrete pump for sale of capacities 20m3, 27m3, 36m3 and 38m3 per hour. The power types can be both electricity and diesel. The output pressure is respectively 6.7 MPa, 6.7 MPa and 8.1MPa, the horizontal pumping distance 450m, 450m and 600m, and vertical pumping distance 100m, 100m and 120m. Haomei small concrete pumps boast a compact design (a width of only 1.2 meters), a lightweight body (about 2.6 tons), a powerful pumping capacity (vertical distance of up to 100 meters), and a wide tolerance for aggregate size (maximum The aggregate size can reach 4~5cm), which can adapt to various or harsh or easy pumping environments, and is used in the construction of roads, bridges, tunnels, water conservancy, mines, geology, and buildings all over the world.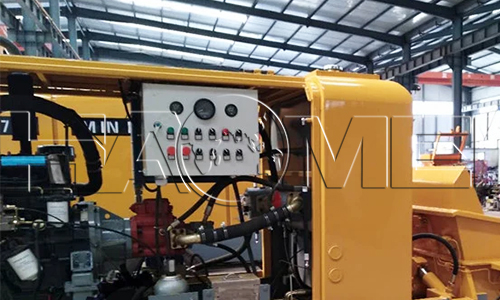 Thanks to the advanced inclined gate valve, the arc-shaped hopper and the new-angle mixing blade design, Haomei small concrete pump feeds smoothly, has high suction rate, complete mixing, and fast feeding. Due to the use of large-bore delivery cylinders (Ø195mm), our concrete pumps are more suitable for on-site mixing of large aggregates, with minimal pipe blockage and high pumping rate. The wearing parts are made of new materials and advanced technology, and the service life of ordinary wearing parts is more than doubled. Motors and diesel engines are selected from well-known brands at home and abroad, featuring strong power, energy saving, environmental protection, reliability and durability, low failure rate, and convenient maintenance. The hydraulic system is based on reliability, and the pumping oil circuit adopts series-type sequential delay control, which successfully eliminates the pressure shock in the reversing process, and greatly improves the stability of the main oil circuit and the slide valve circuit.
  Our 20m3, 27m3, 36m3 or 38m3 small concrete pump for sale can be used in civil buildings (small houses, rural roads, intercity railways, etc.), tunnel construction (diversion tunnel, mine tunnel, railway tunnel, highway tunnel, etc.), mining operations (underground support and backfilling operations during the collection of various natural resources), water conservancy and hydropower engineering (dam construction, water conservancy treatment, etc.) and other construction sites with narrow space or small amount of concrete pouring.
Original source: https://www.concrete-pump-cn.com/a/small-concrete-pump-for-sale.html
Tags: small concrete pump for sale,
Previous: Mini concrete pump truck 18m to 45m
Next: Cement control with a cement mortar pumping machine