How Much Does A Trailer Concrete Pump Cost
Posted On: 23/03/2017 | Posted by: Haomei Concrete Pumps
The price of a HBT90 trailer concrete pump is about 60000-61000.
Haomei Machinery Equipment Co.,Ltd. have produced trailer concrete pump for 10 years,is one professional supplier of concrete machinery in China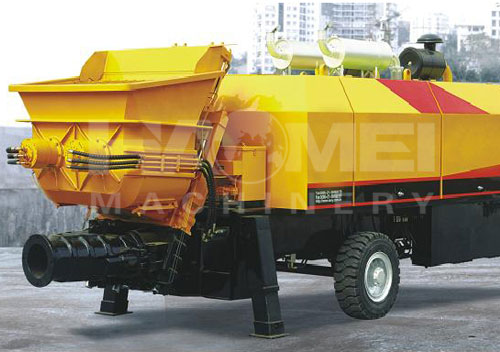 Types of HAOMEI trailer concrete pump as followings:
1,Diesel trailer concrete pump
2,Electric trailer concrete pump
3,Foam concrete pump
4,Mini trailer concrete pump
5,Lightweight trailer concrete pump
6,Mortar pump
7,Shorcrete machine
1,Power system of trailer concrete pump
Main hydraulic pumps are famous German REXROTH products.
Engine:German Deutz
2,Electric control system of trailer concrete pump
The reversing control is electric-hydraulic type. The electric part is controlled by PLC, which is reliable, more accurate with small impact. The main oil pump is under the famous brand of Kawasaki from Japan.
Main electric elements are imported original Schneider, OMRON, Siemens, LG, etc.
3,Hydraulic system of trailer concrete pump
The unique open hydraulic system and hydraulic cushion technology contribute to the smaller exchange impact and less heat of the system. Meanwhile, with the famous brand of main pump and hydraulic valve, the safety and reliability of the concrete pump are guaranteed.
4,Pumping system of trailer concrete pump
Pumping displacement variable adjustment: Change the pumping displacement according to the construction to meet the requirement of the condition.
5.Lubrication system of trailer concrete pump
The patented central automatic lubrication system comes with a piston grease-pump, features high pressure and reliability, which can realize automatic lubrication of piston.
Original source: https://www.concrete-pump-cn.com/a/how-much-does-a-trailer-concrete-pump-co.html
Tags: trailer concrete pump, HBT90 tr,
Previous: How To Debug The Putzmeister Concrete Pump
Next: What Is A Truck-mounted Concrete Pump