How does a concrete pump truck work
Posted On: 05/11/2019 | Posted by: Haomei Concrete Pumps
  How does a concrete pump truck work? A concrete pump truck mainly consist of a special automobile chassis, a concrete pump, an agitator, a screen, a cloth device, concrete distribution valves and legs. In general, the pump works in this way. The rubber tube is squeezed when the roller is rolled, so that the rubber tube has the ability to absorb and output concrete, thereby achieving the purpose of transportation. In detail, the drive shaft drives the roller carriage and the three rollers rotate to continuously squeeze the rubber hose. The vacuum suction port is connected to the vacuum pump. During operation, the vacuum pump continuously draws air, causing a negative pressure in the pump body. The role of the support roller is to assist the quick recovery of the hose after extrusion to improve the suction performance of the concrete.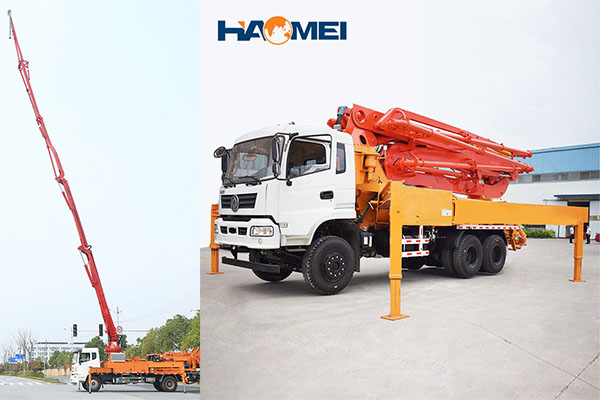 The pump working procedure we elaborate on above does not include the function of any chassis. If we place such a pump on a chassis with a boom type cloth boom, an under-frame, legs, a hopper and a washing mechanism, a boom concrete pump truck is ready. Generally, the concrete output pressure is 1.8 MPa, the discharge amount is 50 m3/h, and the maximum height of the boom is 16 m. In addition to driving the pump truck, the chassis also drives the various working devices during work of the pump. With some ultra-large concrete boom pump trucks (such as semi-trailer train pump trucks), however, the drive of engine is not enough for working of the pump, and an extra motor is equipped to drive special working devices.
  The pumping device is of piston type which uses a hydraulic cylinder to drive the concrete cylinder piston to reciprocate, and cooperates with the hopper and the distribution valve to complete the suction and the removal of the concrete to achieve the purpose of transportation. The cloth device is of the boom type, which can transport and pour concrete in a vertical and horizontal direction within a certain range. This can reduce auxiliary personnel and labor intensity, make concrete water even, smooth and compact, and improve construction efficiency and concrete pouring quality.
Original source: https://www.concrete-pump-cn.com/a/how-does-a-concrete-pump-truck-work.html
Tags: how does a concrete pump truck,
Previous: Need a concrete pump truck
Next: How to operate a concrete pump truck