Buy concrete pump truck from manufacturers
Posted On: 10/12/2019 | Posted by: Haomei Concrete Pumps
  If you want to buy a concrete pump truck, do buy it from manufacturers. Here we introduce our concrete trucks and trailer concrete pumps as below.
  The representative of our trailer pumps is HBTS40 trailer concrete pump whose hydraulic system is a dual discrete open-loop system, featured by high efficiency, good heat dissipation and smooth operation. Its valves are available in a variety of types and its sealing system layout scientific and reasonable. The pumping system has a constant power control, a handy adjustment of the pumping speed and a plugging automatic anti-pump function. The S-type distribution valve with high hardness and wear rings floating hardness alloy glasses has an extremely long service life.
  As for concrete pump trucks, we have 25m to 52m available. The characteristics of concrete boom pump 42m/45m are as below.
  1. Using imported engine, with powerful and stable performance
  2. The transmission system imported from Germany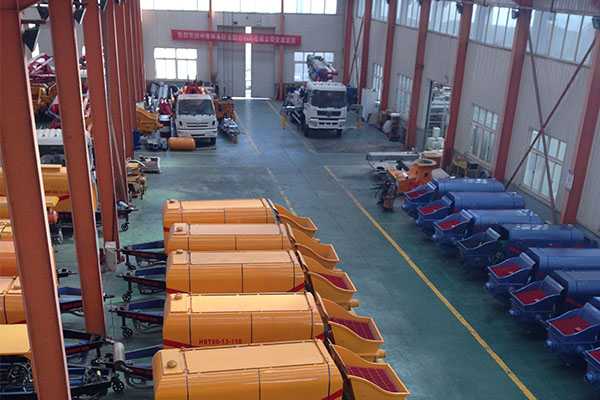 3. Drive mode stability
  4. Imported steering gear with flexible and reliable features
  5. Use PLC controller and other imported components.
  6. Remote control using the HBC products
  7. Boom welding of high strength materials, to be reliable construction
  5.The special design of hopper and vane reduces the space of mixing blind angle thus makes the machine suitable for many kinds of concrete.
  Bringing in advanced experience both at home and abroad, concrete pump boom 42m/45m is developed by applying modern advanced computer simulation techniques and systematically analyzing the influence condition of the boom fatigue life because of the change of various parameters such as stress, displacement, natural frequency etc. The series products won many patents on boom structures optimization and hydraulic systems design.
  We are a 10-year manufacturer and supplier serving clients from over 30 countries. If you need to buy concrete pump trucks, welcome to contact us!
Original source: https://www.concrete-pump-cn.com/a/concrete-pump-truck-buy-here.html
Tags: concrete pump truck buy, concr,
Previous: How to choose concrete pump truck brands
Next: Who should be blamed for concrete boom pump truck accidents