How to Use Cement Mixer with Pump
Posted On: 17/02/2022 | Posted by: Haomei Concrete Pumps
Haomei
cement mixer with pump
adopts twin shaft mixer as the main part of mixing, combined with HBT series concrete pump, which integrates feeding, mixing and high-pressure pumping. Electric motor or diesel generator set can be used as power system. It can be used for mixing and pumping dry and wet materials such as cement, mortar and fine stone concrete.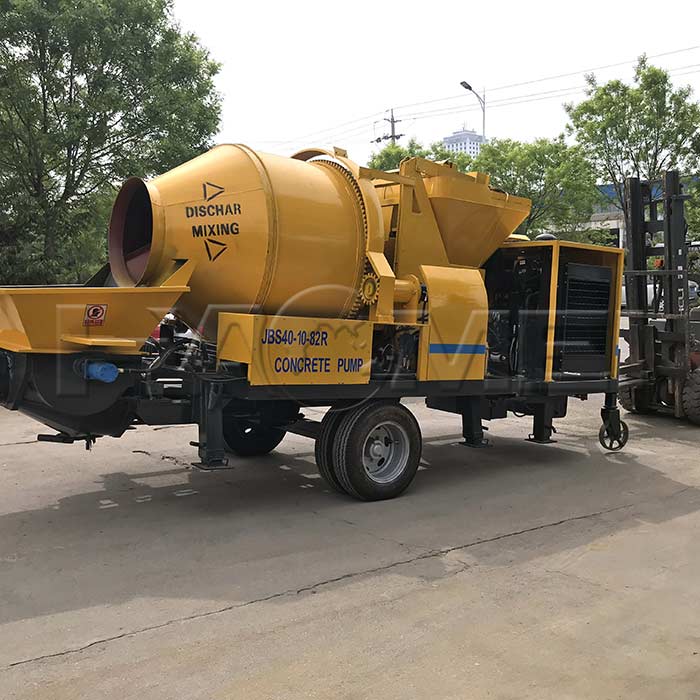 The concrete mixing pump is of uniform mixing quality, and long conveying distance. The maximum horizontal distance of pumpable concrete is 400m, and the vertical distance is 80m. Compared with the traditional mixer and concrete pump, the construction efficiency is improved by 4-6 times, which can greatly shorten the time.
The volume of the concrete mixer with pump is relatively small and does not occupy a lot of land. It is more flexible when choosing a construction site, and it is more convenient to access narrow roads and construction sites in urban areas.
During its operation ,there are maybe some problems like the heating of the hydraulic system. There are some solutions:
1. During the use of the cement mixer with pump,the oil level of the hydraulic oil in the fuel tank should be observed at any time, and the hydraulic oil level should always be kept within the normal oil level range, so as to ensure the heat dissipation effect of the fuel tank.
2. If the cooling effect of the cooler is reduced, the temperature of the oil will also rise. Therefore, when using the mixing pump, you must regularly check the cooler, remove the dirt on its surface, and correctly adjust the opening pressure of the safety protection device. In use, it is necessary to regularly check and correct the opening pressure value of the safety protection device.
3. When the system is heated due to improper pressure adjustment of the hydraulic system, the valve port and pressure value should be calculated and adjusted correctly according to the load requirements of the hydraulic system.
4. If the internal leakage of the system increases, it will cause the oil temperature to rise and the system to overheat. In severe cases, the system pressure will drop and the pumping will be weak. Therefore, these components should be checked regularly and the corresponding sealing components should be replaced regularly. Welcome to leave message below to inquire
concrete mixer with pump for sale
.
Original source: https://www.concrete-pump-cn.com/a/concrete-mixer-pump.html
Tags: cement mixer with pump, concret,
Previous: The Requirements of Concrete Mixing Pump on Raw Material
Next: What Is Best Trailer Concrete Pump