How to choose cement pumping machine manufacturers
Posted On: 15/04/2021 | Posted by: Haomei Concrete Pumps
  To choose cement pumping machine manufacturers, you should focus on brand, practical needs and operating properties.
  Before purchasing from a cement pump manufacturer, you are advised to do some research about brands first. If your budget is sufficient, you should choose a well-known brand, and the quality of the product is guaranteed. If not, try to concentrate on less famous but reliable brands. It is best to send professional personnel to the manufacturer to inspect its production, quality and management status as the basis for selecting a supplier.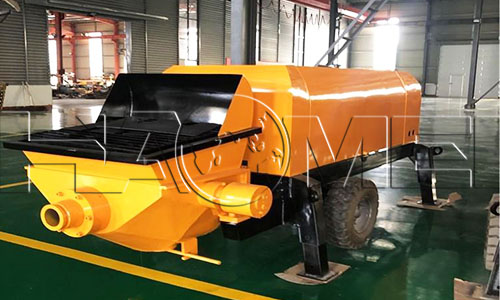 Your practical needs refer to the maximum pumping capacity, power and suitable chassis, which can be determined according to the situation of the undertaking project and the size of the construction project, the length of the period and the frequency of transfer. When investigating the quality of a cement pumping machine, we should look at it from the outside to the inside, from the appearance of the shape, whether the coating is smooth and smooth, to the performance quality of the engine, gearbox, main hydraulic components, pumping system, etc. of the chassis.
  Operating properties of products by different cement pumping machine manufacturers can only be checked during the running process of their pumps. During the checking process, you should pay attention to whether the stability, flexibility, and safety of each part meet the performance requirements, whether the quality of the motor is reliable, whether the fuel consumption rate of the engine is reasonable, and whether the operation of the remote control is stable and reliable.
  Haomei Machinery is one of the earliest companies in China to develop concrete pumps, and it is also an enterprise that implemented large-scale production earlier. It currently has brand influence in the market and is very good in terms of construction efficiency, price, quality, and after-sales service. Cost-effective, professional technical guidance and training, construction plans, installation and commissioning can be provided free of charge. Welcome to inquire!
Original source: https://www.concrete-pump-cn.com/a/cement-pumping-machine-manufacturers.html
Tags: cement pumping machine manufac,
Previous: Cement pumping machine price
Next: HBT60 cement pumping machine features and price