An introduction to the trailer concrete pump operating syste
Posted On: 20/06/2018 | Posted by: Haomei Concrete Pumps
In addition to installing the electrical control system to complete the control task, a manual control control system is also installed on the trailer concrete pump . It is also a part of the control system. The control mode of the electric control system of the concrete pump mainly consists of five kinds of mechanical, hydraulic, mechanical and electrical control, programmable controller and logic circuit control.
If the mechanical manipulation is adopted, there are two ways of the control mechanism of rod system and the manipulating mechanism of the soft shaft. If the two are compared, it is not difficult to find that the soft shaft control mechanism has more advantages, such as flexible arrangement, high transmission efficiency, less transition joint and small travel time, convenient travel adjustment, etc., so the concrete pump truck The control system mainly selects the soft axis control mechanism.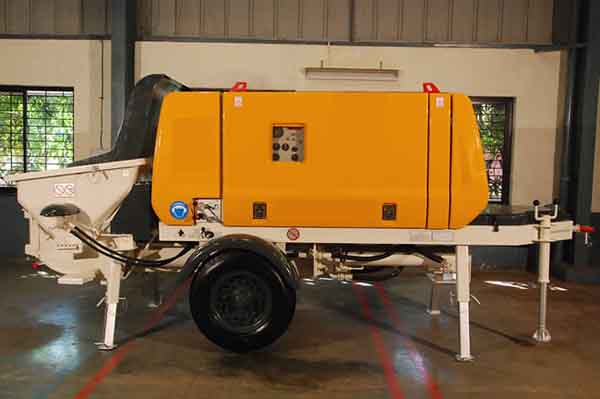 According to the actual needs, the stepless speed control should be realized in the control system of the pump truck and the locking mechanism that can stop the joystick at any position is the key device for the stepless speed control, and the disc spring or the spring plate can be used.
In order to facilitate operation, the handle handle is designed and installed in a more convenient position, such as the poster BSF36.09Z type pump, the control handle of the engine speed control is installed on the edge of the ladder, the operation is very convenient. The operating system of the concrete pump truck is mainly used to control the flow rate and engine speed of the main hydraulic pump, thus changing the concrete discharge volume of the pump truck.
If hydraulic control is adopted, the hydraulic driving force can be obtained directly from the pumping system of the trailer pump truck and controlled by manual hydraulic valves. There is an inseparable relationship with the performance of concrete, at the same time, in the process of operation, pay attention to the details of the operation procedure, find out the fault in time in time, so as to improve the efficiency of the cement pump.
Original source: https://www.concrete-pump-cn.com/a/an-introduction-to-the-trailer-concrete-.html
Tags: trailer concrete pump, cement p,
Previous: The arm frame maintenance of concrete pump truck
Next: The displacement control of trailer concrete pump