32m concrete pump truck service life and price
Posted On: 20/05/2021 | Posted by: Haomei Concrete Pumps
  A 32m concrete pump truck is a pneumatic concrete pump using compressed air as power to deliver concrete to a fixed delivery location. A totally stretching 32m pump can boom to a height of 15 to 20 floors.
  Service life
  The service life of a concrete 32m pump truck relates a lot to its quality. That's why many people want to buy Sany trucks at low prices, which is impossible, of course. Generally our pump trucks can guarantee a service life of at least ten years under normal use, and the most important factor lies in the design of the placing boom. During the concrete pumping process, the placing boom will bear very large and very complex loads. These loads mainly come from the pumping of concrete and the movement of the placing boom. Our booms have gone through a 15-year test.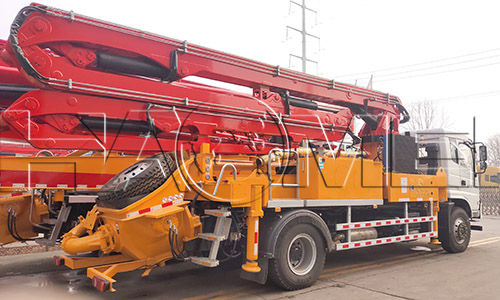 The running state of a 32m truck mounted concrete pump also influences its service life. After the pump truck leaves the factory, there are three main factors that determine the service life of our pump truck. The first is the way of maintenance. The maintenance of a pump truck must be regular and should never be neglected. In particular, the placing boom must be kept clean and clear of obstructions, for any damage to the boom indicates the failure of the truck itself. The second is the continuous and accumulative working time of the pump, which actually relates to the total pumping capacity of the pump. A pump working 8 hours per day lasts longer than that working 12 hours per day. The third is the quality of the pumped concrete. The aggregate size should not be too big, otherwise the boom might be damaged.
  Price
  The price of a 32m concrete pump truck depends on the chassis brand, the main oil pump brand, and the boom material etc. The boom material must be steel alloy with listed hardness no less than HR60. The driving system influences the price, too. A pump truck with a twin-power system is more expensive than either a diesel or an electric one.
  The power system of the our 32-meter concrete pump truck adopts international brands featured by strong stability and low failure rate, and the pump can carry out 24-hour uninterrupted construction. It uses European imported plates, purely imported German Rexroth main oil pump, German Spoo transfer case and dual power system. Double power system is equipped so that it can deal with various construction sites of long distance. In addition, the price of its accessories is not high, and the continuous workability is strong. Therefore, it proves to be an ideal pump for concrete projects such as water conservancy projects, real estate construction, villa group development, and viaduct construction.
Original source: https://www.concrete-pump-cn.com/a/32m-pump-truck-life-price.html
Tags: 32m concrete pump truck, concr,
Previous: 32 meter concrete pump truck price
Next: How to deal with pipe blockage of concrete pump machine trai