Work Standards For Concrete Boom Truck
Posted On: 10/02/2017 | Posted by: Haomei Concrete Pumps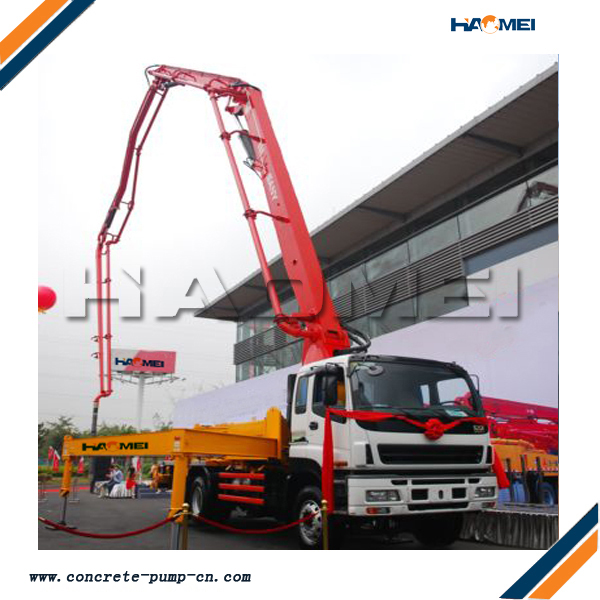 1, After receiving the task of pumping concrete, the person in charge of the concrete boom truck shall check with the sales, transportation and production management personnel to determine the operation line, parking position and contact person.
2, Before driving carefully check each part of the small pump truck in normal state, the pumping pipe, card buckle is in good condition, complete a variety of tools.
3, To fill up fuel tank, to store enough water.
4,Strict compliance with traffic rules, according to determine the line safety to reach the scene.
5, Concrete boom truck in the delivery to strengthen the lookout, the other staff to help the driver do a good job safe operation, if necessary, to get off the command truck driving, to ensure safety.
6,Concrete boom truck arrived at the scene to determine, to be small pump stopped, according to the requirements of Party A began to work.
7, A concrete pump truck overhanging supporting feet to ensure stable in accordance with the regulations.
8, static concrete pump arm stretched out section by section, the arm stretched out, the arm-side down to a reliable place the appropriate height, and then open the tube end of the hose.
9, In accordance with the instructions of the commander of the Party, will be extended to the end of that position.

CONTACT US
Haomei machinery equipment CO., LTD.
Email: info@haomei.biz
Website: http://concrete-pump-cn.com
Office Add: No.14 Waihuan Road, New district, Zhengzhou, China
Tel: +86-371-65621392
Fax:+86-371-86616825
Original source: https://www.concrete-pump-cn.com/a/work-standards-for-concrete-boom-truck.html
Tags: static concrete pump, concrete,
Previous: Top Design Diesel Engine Concrete Pump Suppliers
Next: Mini Concrete Pump Machine