Mini Concrete Pump Machine
Posted On: 15/02/2017 | Posted by: Haomei Concrete Pumps
Concrete pump is the pump which is use of pressure to the concrete along the pipeline continuous transport machinery. By the chassis part, boom system, hydraulic system, electric control system, pumping system composed of five parts.
Concrete pump truck is in the truck chassis on the transformation made of the pump body installed in the car chassis, and then equipped with retractable or inflected cloth rod, the composition of the pump. Widely used in the construction of highways, high-speed rail, subway, water conservancy projects, mixing stations.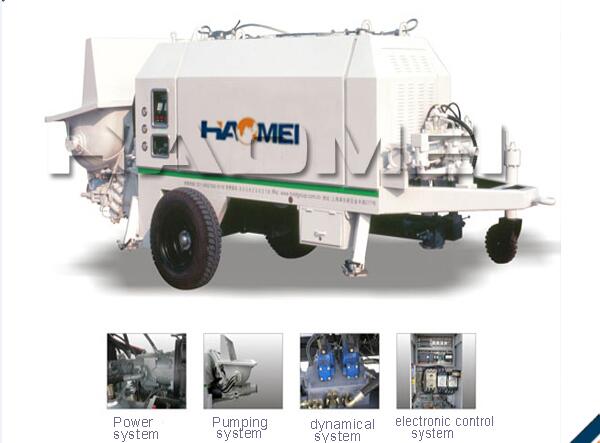 The mini concrete pump machine is driven by a diesel engine, does not require any power access, does not have to worry about the capacity of rural power grids, and pumping more pressure, more efficient, pump failure rate is lower, easier to maintain.
Mini concrete pump machine is popular with this people:
(1)rent: to buy the equipment is specially used for leasing to construction in need of users, the lease equipment construction users do not need to purchase, maintenance, and storage equipment;
(2) Engineering construction unit: to meet the internal regular use;
(3) the individual engineering contractor or family: to undertake projects, these individual buyers are likely to become in the future leasing and engineering contractors.

Contact me ( Email:info@haomei.biz ) freely.
Original source: https://www.concrete-pump-cn.com/a/mini-concrete-pump-machine.html
Tags: mini concrete pump machine, con,
Previous: Work Standards For Concrete Boom Truck
Next: Pumping Displacement Of Concrete Pump