Where Can Be Used For Concrete Mixer With Pump
Posted On: 17/04/2017 | Posted by: Haomei Concrete Pumps
Concrete mixer with pump
is a concrete pump for a small civil building, the degree of automation is very high, the collection of materials, mixing, high pressure pump as a whole, can save a lot of labor costs; simple operation, stable performance.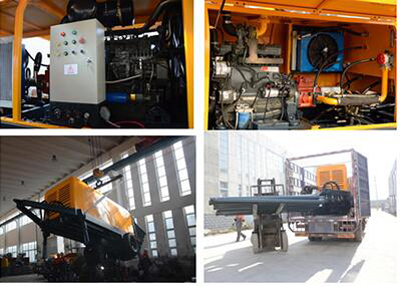 Concrete mixer with pump is a fully automated construction operating system, set feeding, mixing, high pressure pump as one of the small concrete pump. The pump operation is simple, stable performance, easy to move.
Concrete mixer with pump can be used for construction of concrete construction, green soil transport, foundation pile grouting, sludge transport. Mixing equipment of high-performance structure System configuration: to ensure that the pumping force to zero fault using advanced S valve for the concrete to meet the transport, glasses with cutting ring with carbide materials, longer life; high export pressure to meet High-rise buildings and long-distance transport; hydraulic cooling using water-cooled effect is good, easy to use; with anti-pump function, to minimize pipeline clogging; with manual lubrication system to ensure that the transmission life, electric control cabinet with remote control operation.
Original source: https://www.concrete-pump-cn.com/a/where-can-be-used-for-concrete-mixer-wit.html
Tags: concrete mixer with pump,
Previous: How To Prevent The Boom Pump Blockage
Next: How to solve the problem of boom pump blinding