Truck Mounted Concrete Pump VS Concrete Pump Trailer
Posted On: 03/11/2021 | Posted by: Haomei Concrete Pumps
The
truck mounted concrete pumps
consists of swing cylinders, hydraulic oil tanks, delivery cylinders, washing chambers, main cylinders, oil pumps, and engines. The whole machine moves freely with the truck chassis.
The engine of the truck mounted pump's hydraulic system is an independent engine, which is installed in the center of the front center of the chassis. It directly drives the hydraulic system oil pump, and does not drive the gear transfer case, the transfer case switching mechanism and the chassis drive shaft.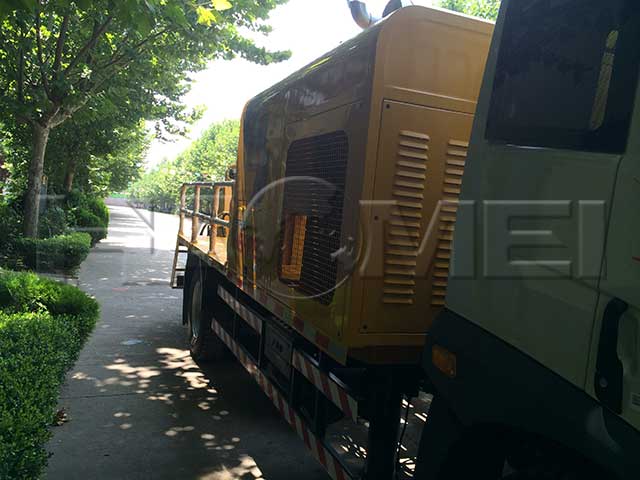 The hydraulic system of this pump is an open system, the pump output pressure is 10.5-20Mpa, the pumping capacity index is 500-600MPaM3, the oil circuit is equipped with an adjustable flow valve in a relatively constant pressure swing system, and the pressure is set to 19Mpa.
The pressure relief valve, check valve, unloading valve, auxiliary safety valve and speed regulating valve are eliminated in the system, and the main hydraulic reversing valve, main safety valve, main solenoid pilot valve, auxiliary hydraulic reversing valve, auxiliary solenoid are adopted.
The main hydraulic reversing valve and the auxiliary hydraulic reversing valve are supplied by two oil pumps respectively. The main hydraulic reversing valve and the oil pump form a constant power system, and the auxiliary hydraulic reversing valve, unloading valve and oil pump form a swing system with constant pressure.
The electrical control system is equipped with a programmable controller responsible for the reversing of the solenoid valve, replacing the complicated relay circuit. In the hydraulic system, in addition to the high and low pressure switching valve between the two main cylinders electromagnetic pilot valve and shuttle valve are also connected between the rodless cavity of the two main cylinders. The load resistance is 2.5Mpa.
The
truck-mounted pump
integrates the advantages of a concrete pump trailer and a concrete boom pump. It is more flexible and more maneuverable than a trailer concrete pump. It does not require transportation, loading and unloading and fixed installation. It is of high equipment utilization, stronger pumping performance and faster pumping speed.
The truck mounted concrete pump occupies has less space than pump trucks, lower price, higher pumping height, longer distance, and lower maintenance cost compared with the concrete pump truck.
Original source: https://www.concrete-pump-cn.com/a/truck-mounted-concrete-pump.html
Tags: truck mounted concrete pump, c,
Previous: The Features of Cement Mixer And Pump
Next: The Advantages of 37 Meter Concrete Pump Truck