The technology characteristic of stationary concrete pump
Posted On: 05/02/2018 | Posted by: Haomei Concrete Pumps
We offer a wide variety of mobile and stationary concrete pumps pumping concrete up to extreme heights and over great distances.
Concrete pump trailer is ideal for High-rise and Long- distance concrete pumping and also ideal for tunnel construction.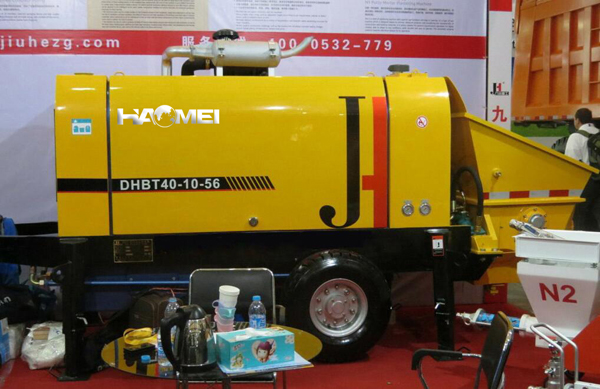 Stationary concrete pump is the pump which has to be moved under the influence of external force. As one of the most practical concrete conveying equipment, mortar pump machine gets the favour of most customers. You can see it in many construction sites, including buildings, bridges, water conservancy, tunnel and so on. Usually the pump is settled on the floor, under the influence of high pressure, the concrete is transported to high space through pipelines.
The technology characteristic of stationary concrete pump:
Robust Electronic Operation Controls and Management with Manual Override
On screen display of parameters like Pumping hours, concrete output, hydraulic oil temperature, fault diagnosis matrix, strokes counter and engine speed
Suitable for high pressure pumping
The Most Compact Pump in It's Class
Sturdy Undercarriage
Specially Designed Hopper to facilitate free flow of Concrete for better suction
Radio Remote Control up to 100 mtrs
Modular Hydraulic and Diesel Tank.
Shaft Mounted Gear Box for more Agitator Power
Safety Grill Open Alarm System
Hopper and Canopy light for night working
Original source: https://www.concrete-pump-cn.com/a/the-technology-characteristic-of-station.html
Tags: stationary concrete pump, concr,
Previous: Precautions for the stretching arm of concrete boom truck
Next: Introduction to concrete pumps for sale