Precautions for the stretching arm of concrete boom truck
Posted On: 01/02/2018 | Posted by: Haomei Concrete Pumps
The concrete boom truck can not only walk independently, but also because of its independent arm, so it is well received by the vast majority of the construction parties. So what should we pay attention to when the concrete placing boom stretches the arm?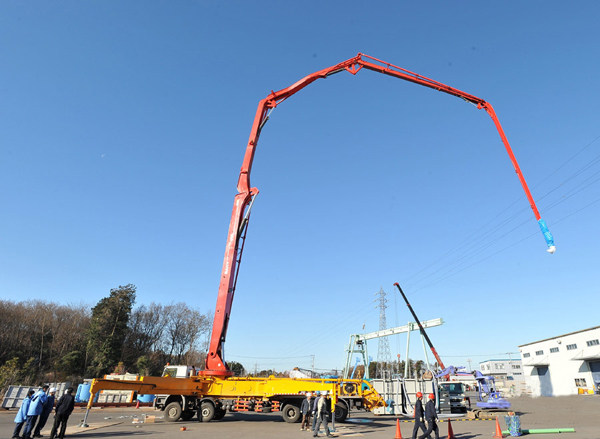 In the process of concrete pump truck operation, in order to ensure the safety of the construction, we must pay attention to the operation of the boom only after the supporting leg of the trailer concrete pump has been properly supported. During the operation of the boom, we must strictly follow the order of the instructions. If abnormal movements occur during the operation of the arm, the rush button should be pressed immediately. It will be used by the professional staff to find out the causes and to exclude them.
When the concrete boom pump is operated, the arm frame can not be used in both thunderstorm and bad weather conditions. The brachs can not be operated in weather greater than 8 wind. In addition when working near power lines should be careful risk of electric shock, and ensure the safe distance between the boom and the wire, because the boom is below the danger zone, so to avoid concrete or other parts fall wounding, in the whole process of operation of the boom, boom should be in the field of vision of the operator in.
In addition, when the concrete boom truck starts pumping, it is not allowed to guide the end hose. It may swing or hurl concrete and cause accidents. The dangerous area when starting the pump is the surrounding area where the end hose swings. The area diameter is two times the length of the end hose. The maximum length of the end hose is 3 meters, and the dangerous area is 6 meters in diameter. Remember not to bend the end hose, and the end hose will not enter the concrete.
Original source: https://www.concrete-pump-cn.com/a/precautions-for-the-stretching-arm-of-co.html
Tags: concrete placing boom, concrete,
Previous: Concrete pump mixer is applied to varieties of construction
Next: The technology characteristic of stationary concrete pump