The reliability of concrete placing boom is very high
Posted On: 28/05/2019 | Posted by: Haomei Concrete Pumps
Concrete placing boom has solved the major problems in rural construction, such as limited site, limited electricity, rugged mountain roads, diversified climate and so on. It is a great test for concrete construction equipment, while the traditional medium-sized and large-scale building concrete construction equipment is efficient, but the failure maintenance is very troublesome, and the application of terrain is very limited.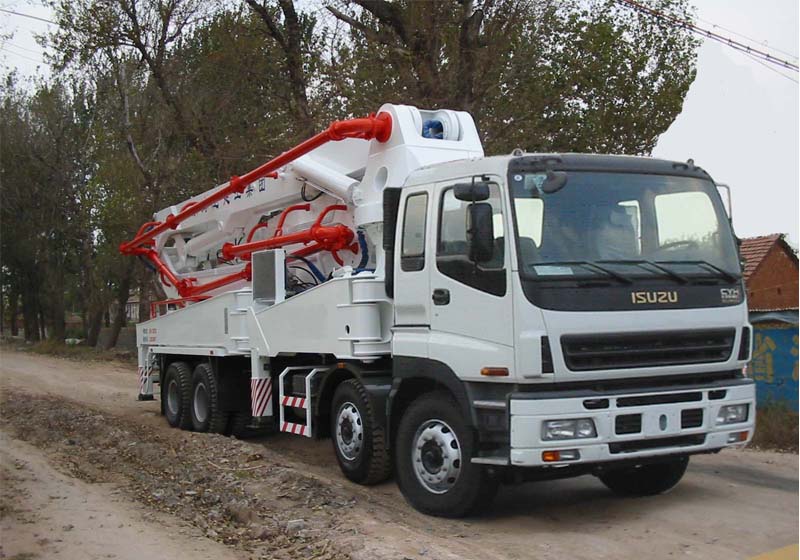 The shape design of concrete boom pump is very reasonable, usually streamlined or droplet design. This novel design not only makes the appearance more coordinated, but also makes the layout more compact and reasonable. Therefore, its hood can be completely covered, the overall tightness is greatly improved, and the overall stiffness is also very impatient, which makes the concrete boom pump adapt to a variety of terrain rings. Conditions of circumstances;
The main oil pump, circuit board and valve group of concrete boom truck used by concrete boom pump manufacturer usually do not produce by themselves, but adopt world famous brand. As a result, the durability of boom pump has been improved a lot, the failure rate has been significantly reduced, and the overall reliability has been improved a lot.
Concrete boom pumps will generally import more high-end brands, because in order to adapt to the complex environment in rural areas, reliability has been further improved, and the power output effect is usually better than ordinary;
It is worth reminding you that the selection of motor for used concrete pump truck is a key point, because the motor units are often the parts with high failure rate. In order to solve the inconvenience of maintenance and after-sale in rural areas, the concrete boom pump usually uses well-known high-end brand motors. Not only is it safe and reliable, but also the manufacturer is confident to give life-long maintenance commitment, because it is not worried about the failure of concrete boom. The frame pumps are all integral precision casting. The concrete boom pumps are optimized by three-dimensional design. So the volume of the arc hopper produced can be used, and the concrete is not easy to accumulate. The placing boom concrete pumps are more convenient for cleaning.
Original source: https://www.concrete-pump-cn.com/a/the-reliability-of-concrete-placing-boom.html
Tags: concrete placing boom, concrete,
Previous: Removal the common faults of concrete boom truck
Next: What about blocking pipe of putzmeister concrete pump