The Operation Instructions Of Cement Pump Truck
Posted On: 03/01/2017 | Posted by: Haomei Concrete Pumps
HAOMEI Machinery provide you with professional operation of cement pump truck process:
1.Before starting the cement pump truck , it is necessary to carefully check the working condition of the concrete pump and the reliability of the transmission line so as to ensure that the connection is safe and reliable and all safety precautions shall not be changed or canceled.
2.Set special work area around the concrete pump machine and make sure irrelevant person is forbidden to enter without permission and at night scene the lighting in the concrete pump work area should be adequate. At least 1 meters space should be put apart around concrete pump work area for convenient operation and maintenance.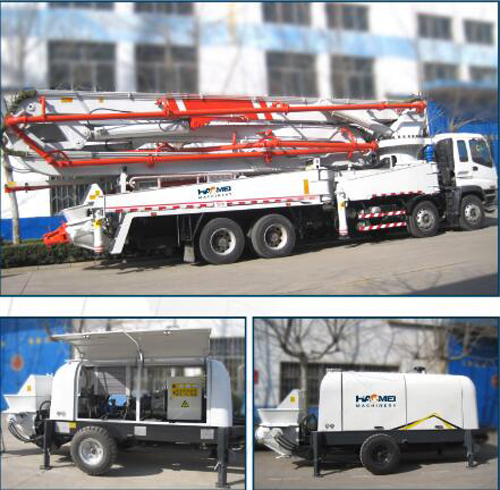 3.The power circuit to enter the pump must be connected to the leakage protection switch before connecting the power supply and electrical control box maintenance, installation, wiring can only be operated by a professional electrician. During maintenance, the motor and the power switch must be switched off and release the accumulator pressure.
4.Movable legs and stationary legs should be fixed with bolt fastened and firmly connected with the frame before putting on solid ground. Before motor vehicle dragging concrete pump, the movable legs must be pulled back and firmly connected with the frame.
5.After pumping, you should shut off the motor and power supply and lock the cabinet door in order to avoid irrelevant person launching the cement pump.
6.Complete the daily operation records and oil charging records according to requirements.
Please contact us Email:info@haomei.biz if you are interested in our products.
Original source: https://www.concrete-pump-cn.com/a/the-operation-instructions-of-cement-pum.html
Tags: cement pump truck, cement pump,
Previous: YHZS75 Mobile Concrete Plant Installation Site In Indonesia
Next: Concrete Pump Parts Instruction