The Chassis Is To Power Pumping Concrete
Posted On: 28/02/2017 | Posted by: Haomei Concrete Pumps
The chassis is an important part of concrete pumping equipment , which provides the load platform and work power for the equipment and provides a travel drive for the movement of pumping concrete.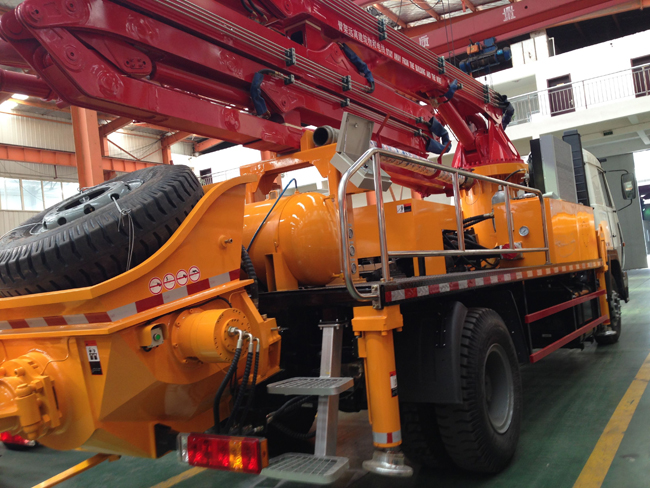 It was paralyzed when it left the concrete pump. So all the large concrete pumping equipment chassis more than 90% are imported chassis. However, in the process of power transmission there is a component played an irreplaceable role, that is, transfer box, to remind customers to pay attention to the purchase.
How to provide chassis power pumping concrete?
For power switching, we will interrupt the drive shaft in the drive system of the car chassis and join the transfer case in the middle. When driving, the electromagnetic commutation pneumatic valve to drive the transfer box on the transfer cylinder on the fork in the transfer box will transfer the internal gear of the gear group to convert the front and rear drive shaft to achieve power to the rear axle transfer. When the need for work, the same electromagnetic commutation pneumatic valve drive on the transfer box on the cylinder to drive the transfer box in the fork will transfer the internal gear box to convert, disconnect the drive shaft before and after the connection, the power Connected to the power transmission port of the transfer case, thus driving the pump work.
Original source: https://www.concrete-pump-cn.com/a/the-chassis-is-to-power-pumping-concrete.html
Tags: pumping concrete, concrete pump,
Previous: The Small Portable Concrete Pump Is Easy To Operate
Next: The Structure Of Concrete Boom Truck Display