Portable concrete pump used in the group buildings/bridges
Posted On: 17/11/2017 | Posted by: Haomei Concrete Pumps
Portable concrete pump application Convey floor heating lightweight foamed cement, mortar, fine aggregate concrete. Convey greening soil in ecological environment construction. Convey all kinds of engineering construction in the plain concrete, fiber concrete. Most suitable for four to six floor buildings, especially in the group buildings, bridges and the small construction sites where need the concrete mixer at the scene.
Portable concrete pump with mixer is combined by the traditional concrete pump and the mixer together. It achieves full automatic during concrete construction process.
Portable concrete pump is the hot–sale concrete pumping equipment in Aimix Machinery. Same as other types of concrete pumps, it is the concrete pumping equipment, which can ensure concrete conveying to construction site through pipes. While compared with others, it is more convenient to operate and maintain due to its features of movement. In general, equipped with tires, it can change construction sites more easily. Because of its compact structure, it can realize quick assembly and disassembly. Advanced electric control system can save a lot of time and labor. The important thing is that the concrete mixtures are conveyed through pipelines, which has less environment pollution.
Production Technology of portable concrete pump:
1. Intelligent power control system to regulate the engine speed automatically,for smooth and efficient operation;
2. Plunger pump with constant power, to ensure the efficiency of main engine;
3. Good sealing S-valve, installed with floating wear resistant ring;
4. High-quality wear resistant alloy components for long service-life;
5. High delivery pressure for demand of high-rise and long distance projects;
6. Air cooling system, without dependence of external water;
7. PLC system to ensure best control performance;
8. With re-pumping function to smooth construction of better accessibility.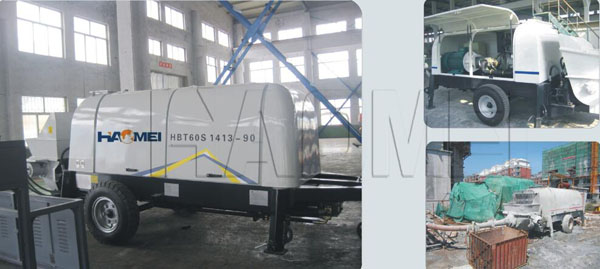 Package of portable concrete pump:
Goods are transported by sea,2 units can be packed in 1x20HQ. Or 1 unit machine plus 1 unit small
loader can be packed in 1X20HQ.
F A Q portable concrete pump:
1. Are you manufacturer?
----Yes, we are professional concrete pump manufacture ,we can provide stationary concrete pump, trailer concrete mixer pump and truck mounted concrete mixer pump, Micro wheel loader, Construction elevator and Suspended platform and so on.
2. What certifications you have ?
-----ISO9001:2008 and other domestic certifications and memberships.
3. Do you have aftersales service?How you will supply with the service?
------Yes, of course. Engineers are available by the third party in overseas, service in 24 hours
4. How long is your product warranty?
-----6 months to 12 months
5. Do you supply with some free spare parts and tools what are they?
------Yes, we supply with some free spare parts of machines and repaire tools
Original source: https://www.concrete-pump-cn.com/a/portable-concrete-pump-used-in-the-group.html
Tags: portable concrete pump, concret,
Previous: Precautions for extension arm frame of concrete pump boom
Next: Schwing concrete pumps for sale