Inspection period of concrete pump truck
Posted On: 14/06/2018 | Posted by: Haomei Concrete Pumps
The convenience and efficiency of concrete pump truck have attracted the attention of the construction industry. In the course of construction, commercial concrete pumps need regular inspection for various reasons. The inspection of concrete pump trucks is usually based on the different parts, and the inspection cycle is different. Generally speaking, the inspection cycle will be shorter if some parts are easily damaged. In some fixed parts, the inspection period is longer.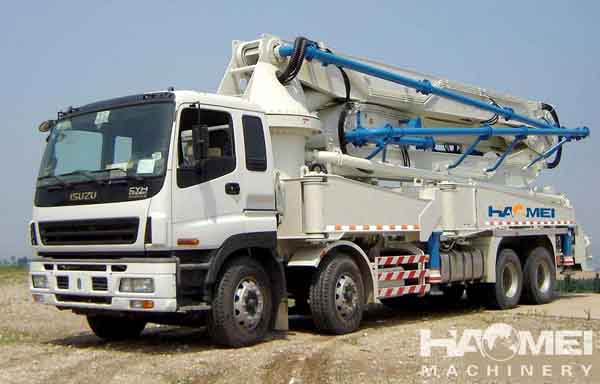 Concrete boom pump daily inspection includes exterior damage deformation, loosening of exposed parts, operation and performance change, leakage oil, hose damage, lubrication oil, car driving unsafe factors, etc.
At the time of pumping 2000 cubic meters of commodity concrete or every month, the following inspection can be done, such as the damage of the slide valve, the wear of the conveying pipe, the reduction of the hydraulic oil, the forced lubrication of the lubricating point, the routine maintenance of the pump truck, etc.
If the boom pump has reached 24000 cubic meters of concrete or a year's time to do the following inspection, such as mixing equipment, mixing oil motor, rotary oil motor, pump, oil pump, replacing hydraulic oil, and so on, the replacement of hydraulic oil and so on need to be checked.
If the boom pump is 48000 cubic meters of concrete or every two years can be checked, all the seals should be replaced when all the items are taken care and the automobile part should be repaired at the designated or professional repair points.
Original source: https://www.concrete-pump-cn.com/a/inspection-period-of-concrete-pump-truck.html
Tags: concrete pump truck, concrete b,
Previous: Common Breakdowns of Pumping System for Concrete Boom Pumps
Next: The arm frame maintenance of concrete pump truck