Diesel RMC Pump for Sale
Posted On: 28/12/2022 | Posted by: Haomei Concrete Pumps
Ready mix concrete pump is a special machine for transporting concrete and pouring concrete on site. It is equipped with a special pipeline, which can transport the concrete along the pipeline to the pouring site. The speed of pumping concrete and the conveying height are determined by the parameters of the main oil pump. It has two types: electric concrete pump and diesel concrete pump.
The operating noise of the electric concrete pump is relatively small, but the electric concrete pump needs to set up power lines, which is troublesome. If there is no suitable power supply, or the needed circuit is too long, it is not recommended to choose a motor pump. Diesel pumps are relatively flexible when working. If it is in a place where there is no sufficient power supply, it is safer to to choose a diesel pump.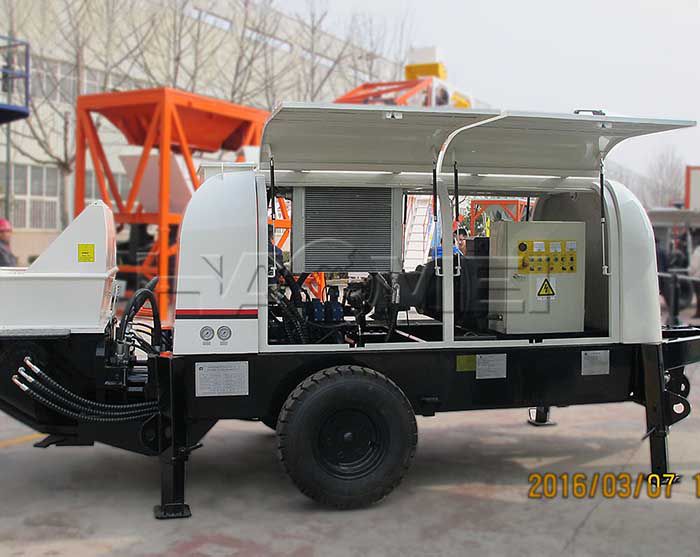 At present, it is very difficult to connect to the power supply in many areas, especially for some special projects such as slope protection or field projects. In this case, the diesel concrete pump is needed.
Haomei diesel RMC pump adopts Weichai Deutz products, reflecting the design concept of high performance, low energy consumption and environmental protection. The main oil pump adopts Rexroth pump group, and the main and auxiliary valve groups of the hydraulic system also adopt international famous brands. The hydraulic system is designed as an open system, and adopts advanced new buffer reversing.
RMC plant relies on the delivery pipeline to pump concrete, so the configuration of the delivery pipeline is also one of the important procedures of the operation.
Pipeline design should try to avoid elbow pipes and adopt straight lines to ensure that the pipe joints are sealed and leak-free. Pipelines should not be placed directly on the ground, and pads should be prepared. If it is a high-rise building construction that transports concrete upwards, it is also necessary to arrange fixing devices to fix the pipeline. Welcome to leave message below to inquire RMC pump price.
Original source: https://www.concrete-pump-cn.com/a/diesel-rmc-pump-for-sale.html
Tags: diesel concrete pump,
Previous: The Boom Length of Small Concrete Pump Truck
Next: Truck Mounted Ready Mix Concrete Pump